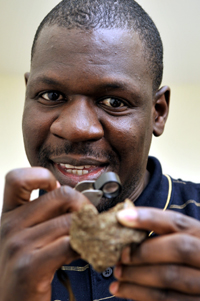 UCT lecturer Shadreck Chirikure(left) has led a team of international experts in "a hectic" audit and inventory of archaeological materials recovered from a 16th-century shipwreck off the Namibian coast.
Chirikure, of the Materials Laboratory in the Department of Archaeology, and three researchers from Kenya and Zimbabwe, counted and categorised 21kg of gold coins, 3kg of silver, 18 tons of copper and two tons of ivory, as well as some ancient navigation instruments.
"We physically touched every copper ingot, weighed them and measured their diameters and heights," Chirikure explained.
The shipwreck, believed to be that of a Portuguese cargo ship en route to India, was found along the Skeleton Coast (where there are often rough seas) near Alexandra Bay in April, during an offshore diamond-mining operation by Namdeb, a subsidiary of De Beers.
The company had built sand-walls to keep the sea at bay and used big vacuum cleaners to suck sand and other bedrocks seven feet beneath sea level. One of their machines jammed, and a geologist noticed that it had sucked up copper ingots.
"That was when they realised the importance of the discovery, and the need to preserve the perishable archaeological materials, most of which lay undisturbed on the ground."
Chirikure and his team were brought on board to develop a database by categorising and creating an inventory of the cultural objects. They studied the materials and are writing a report on the findings, having also given advice to the Namibian government on how to maintain them.
"We found that conservation was an issue. The storage, in the shade, was not adequate, and exposed the materials to the hostile environment. We suggested that the materials be kept under controlled temperature and humidity conditions."
Chirikure cited an internet-based publication that ranked the shipwreck as one of the top eight archaeological discoveries in the world in 2008. Therefore, it has huge international significance.
"The discovery has huge potential to raise revenue through tourism."
Chirikure said there was only one Namibian, a non-archaeologist, involved in the whole operation, highlighting a need for African states to train their own archaeologists.
And he has learnt a lot. "It happens once in 100 times that you work on a shipwreck, and I have drawn a lot of skills from the exercise."
And the fact that his team gave advice to the Namibian authorities underscored UCT's keenness to provide expertise across borders.
Since then, Chirikure has been getting invitations from local and international publications to publish the findings and even to write a book.
"It makes me happy to get acknowledgement from my fellow professionals."
---
This work is licensed under a Creative Commons Attribution-NoDerivatives 4.0 International License.
Please view the republishing articles page for more information.
---