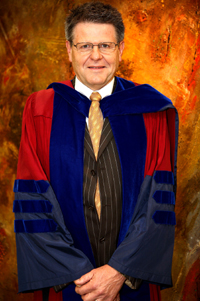 How do the South African media report on crime, particularly when it involves racial differences?
This was the question posed by Ian Glenn, the first professor of Media Studies at UCT's Centre for Film and Media Studies in the Faculty of Humanities, in his inaugural lecture on 15 October.
After a welcome by Vice-Chancellor Dr Max Price and an introduction "with glee and some trepidation" by colleague Professor Henning Snyman, Glenn argued that in comparison with developed countries, the South African media under-reported violent crime, rather than over-reporting, because of dominant racist attitudes in the media, as has been claimed by former President Thabo Mbeki, among others. Glenn also spoke on how violent crime has created a state of "cultural trauma" for South Africans, particularly whites.
"Local television shows quite the opposite trend to the Americans in that the SABC plays down all crime, and particularly violent crime," notes Glenn. "This neglect is not benign, but has strong, sometimes fatal consequences, particularly for black victims. Media failure to deal adequately with a range of violence against poor black South Africans has been evident in a range of cases."
Noting that the SABC employs about 1 000 staff in the news divisions, Glenn argues that the publicly funded corporation offers very little "bang for the buck".
Glenn argued that the general assumption that not covering crime is a sign of non-racial virtue has resulted in the media being unable to protect poor black victims of violent crimes such as serial killings, ethnic cleansing, or xenophobic violence.
"Under-reporting crime is not left wing," he says.
The effects of violent crime also came under the spotlight. According to Glenn, white South Africans are experiencing what American sociologist Jeffrey Alexander calls a state of "cultural trauma".
"Cultural trauma is suggested by the defining or story-telling about crime by major figures in South Africa, like author Andre Brink," notes Glenn. "Recent Hollywood films on Africa suggest that international Afro-pessimism now sees white Africans and South Africans as traumatised victims of political and social violence, rather than simply as oppressors."
Finally, Glenn argued that South Africans have moved into what Zygmunt Bauman calls "liquid modernity". This means that educated, mobile South Africans are far less likely to see themselves as loyal to place or nationality.
"Liquid moderns are less likely to be tied to land and obligations," says Glenn. "Liquid moderns are typically highly educated, socially mobile, likely to emigrate."
Glenn concludes that the cultural-studies approach to crime and media has lost credibility, and generalising claims need to be replaced by further collaborative research. He also notes that the country would benefit from smarter, more aggressive crime coverage in the media.
Lesley Marx thanked Glenn for a lecture she described as "impressively well-informed, both theoretically and evidentially," and also "provocative and witty". She said that in the 34 years she had known him, she had always admired Glenn's ability to range widely across disciplines, also one of the strengths of his teaching.
---
This work is licensed under a Creative Commons Attribution-NoDerivatives 4.0 International License.
Please view the republishing articles page for more information.
---