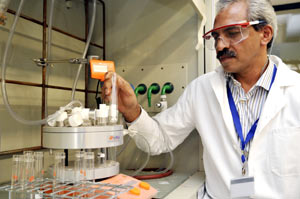 War on TB: Dr Anwar Jardine is the recipient of a grant from the Bill & Melinda Gates Foundation for his research in finding a new TB cure.
Dr Anwar Jardine's project to develop treatment for multi-drug-resistant strains of tuberculosis has won a grant from the Bill & Melinda Gates Foundation worth US $100 000 (or R1 million).
Jardine, who has only been with the Department of Chemistry in UCT's Faculty of Sciences since June this year, was chosen out of thousands of applicants to receive the foundation's Grand Challenges Explorations grant.
Out of the 105 grants awarded by a blinded review process, Jardine is one of only three African recipients.
Only in its first stages, Jardine's research has targeted a relatively newly discovered pathway critical to the survival of TB-causing bacteria, and protocols have been set up to test the hypothesis that blocking this pathway will kill the latent form of the bacteria.
"Much like humans, bacteria create molecules to protect itself from attack," explains Jardine. "By blocking this molecule's assembly pathway and subsequent use, the TB-causing bacteria's defence is weakened and it becomes more vulnerable to existing TB medication."
As well as understanding how this molecule is used by the bacteria to protect itself, Jardine's research is aimed at contributing toward finding new potential drugs that will minimise the chance of resistance, which is a common problem with current therapeutic regiments.
"Sometimes the disease isn't killed off completely by treatment," notes Jardine. "It can lie dormant in the body for years, waiting for the immune system to be weakened by other illnesses or conditions, such as HIV."
South Africa has by far the highest prevalence of TB in the world, with as much as one in three people carrying the disease, many unknowingly. In absolute numbers, South Africa has the fourth biggest TB population in the world, after India, China and Indonesia. The disease remains a leading cause of death for people in the country living with HIV.
The Grand Challenges Explorations is an initiative to help lower the barriers for testing innovative ideas in global health. The grants are aimed at injecting fresh perspective into research for preventing or curing infectious diseases and limiting the emergence of drug resistance. After the initial grant, additional funding of $1 million or more will be available for projects that show promise. This is Jardine's next target.
He is currently working with researchers at the University of Bath in the UK, the University of Stellenbosch and UCT colleagues. The initial grant will enable Jardine and his team to go ahead with this research for the next 12 months. If the year is a success, Anwar and his collaborators hope to be in line for the $1 million grant. Jardine is confident he will reach his goals.
"We'll do it," he says easily. "We've already made good progress."
---
This work is licensed under a Creative Commons Attribution-NoDerivatives 4.0 International License.
Please view the republishing articles page for more information.
---