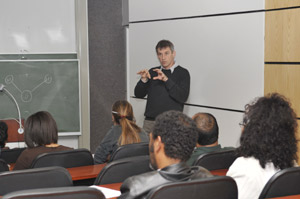 Transforming: Ass Prof David Gammon, deputy dean and chair of the EE sub-committee in the Faculty of Science, talked about the staff profile of his faculty during a panel discussion on employment equity.
UCT's Employment Equity (EE) policy aims to have profiles of its academics and middle and senior support staff reflect national demographics, but it will take up to 60 years to catch-up, employment equity manager, Dr Sabie Surtee, has stated.
"But that does not mean we can't try harder," she said at a panel discussion on employment equity, organised by the Faculty of Science's Transformation Forum on 20 October.
Together with Associate Professor Rochelle le Roux, head of commercial law, and Associate Professor David Gammon, deputy dean and chair of the EE sub-committee in the faculty, Surtee was a panel speaker at the event.
The event initiated discussion around employment equity issues and looked at where the university comes from, its current EE practices, policies and realities, and where to go in future, as a first step towards preparing a new equity plan for the faculty.
Surtee said the current employment equity targets were far too modest. She called for an establishment of an EE review board during the development of UCT 's next EE Plan, where the board should critically scrutinise EE targets that are submitted to the EE office by faculties and support staff departments, instead of just taking these targets at face value.
She called for accountability for meeting EE targets to be matched with consequences if targets are not met.
"What happens if they don't meet the targets?" she asked. "There must be consequences. If there are no consequences we will never achieve our goals".
Surtee said staff had to be consulted in the process. Dr Hussein Suleman, chairperson of the forum, said the discussion had yielded a greater understanding of the legal regime within which they operate, the university's large vision, and the current state of the faculty.
He said the forum would continue with consultation over the next 12 months for a much more "visionary and ambitious equity plan".
---
This work is licensed under a Creative Commons Attribution-NoDerivatives 4.0 International License.
Please view the republishing articles page for more information.
---