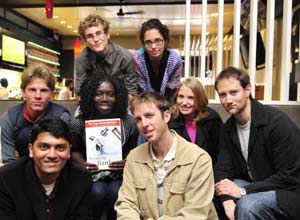 Going global: Some of the editorial team of the latest Globalist magazine are, front, Saif Islam, Duncan Scott: middle, Graham van de Ruit, Sheila Afari, Anine Kriegler and Bernhard Schlenther; back, Murray Hunter and Sydelle Willow Smith.
UCT's The Cape Town Globalist magazine, an undergraduate international affairs publication, is growing bigger and better.
The latest issue, launched on 13 October, has more copies and the content is getting more varied. And it comes with a twist.
"We have looked at serious issues and tackled them in a way that's accessible to students across the board," explained Murray Hunter, a fourth-year student in media theory and the magazine's editor-in-chief.
Themed Breaking the Bank, the issue looks at topics such as the global credit crisis, microcredit, and how consumers spend their money, and also tackles a range of political, economic and environmental issues. These include the annual G8 summits and the way the G8 members deal with poor countries.
UCT is one of nine universities around the world to produce a Globalist, and the only one in Africa. Hunter said their coverage was "Afro-centric", covering stories from Zimbabwe, Kenya and the Democratic Republic of Congo, among other nations.
The semesterly magazine was launched at UCT in 2006, having originated at Yale University in 2000.
The magazine also has a website
---
This work is licensed under a Creative Commons Attribution-NoDerivatives 4.0 International License.
Please view the republishing articles page for more information.
---