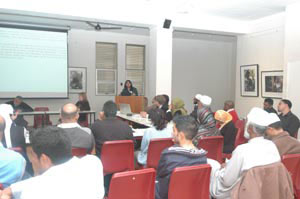 Revealed: Claims that Islam schools teach terrorism are false, a symposium hosted at UCT recently confirms.
Detailed research on what is happening at Islam schools around the world was examined at a Centre for Contemporary Islam-hosted symposium on 8 and 9 October.
Called Muslim Minority Rights, Islam Education and Democratic Citizenship, the event saw researchers from South African universities and from the University of Hamburg in Germany, sharing their findings with people such as educators at Islamic schools.
Professor Abdulkader Tayob, director of religious studies at the centre, said there are assumptions, particularly in Europe and the United States, that Islam education promotes undemocratic behaviour. "There is a belief that at Islam schools people are trained to carry out terrorist attacks."
This perception grew after the September 11, 2001 attacks in the US, sparking worldwide research on the issue.
The idea is to show that not only are the assumptions untrue but that these claims can't be made without research to underpin them. Tayob said the symposium also looked at the complexity of Islamic religious education in a democratic society.
"Race and gender play a big role in Islamic religious education; it is segregated in terms of gender and race. We asked: what is happening at schools, how can we improve the education, and what are the problems?"
Tayob also said the event was a creative process between local and international researchers, a view shared by Professor Wolfram Weisse of Hamburg.
"We can learn a lot from what is happening in South Africa. The free and open discourse helps to broaden our view," Weisse noted.
---
This work is licensed under a Creative Commons Attribution-NoDerivatives 4.0 International License.
Please view the republishing articles page for more information.
---