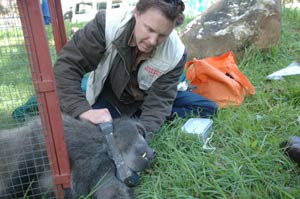 Gotcha: UCT zoologist Dr Justin O'Riain fits a GPS collar to a sedated Bart. The baboon, from the Tokai troop, appeared on campus last Friday and made daily visits to campus in search of food, disrupting the usual ebb and flow on upper campus.
Bart the baboon's academic career is finally over.
This morning the primate that has enjoyed free run of upper campus for the past week - alarming and amusing students and evading CPS staffers - was darted by wildlife veterinarian Hamish Currie behind the traffic services department on Upper Ring Road.
This was after Bart's usual early-morning ambulatory recce of upper campus bins (those near the humanities and African Studies Centre seemed to offer the richest pickings; Bart avoided the science end of campus) and his habitual grooming session and nap atop the Leslie Commerce building roof.
All the while Bart was being closely monitored by UCT baboon expert Dr Justin O'Riain and researcher Alta de Vos.
He must have wondered about the other motley crew dogging his movements: photographers from the Monday Paper and Die Burger, leapfrogging from parapet to parapet, a public relations officer, and a precautionary posse of CPS staffers.
Bart didn't find the cage that had been set outside the African Studies Centre, strewn with bread, which baboons love.
"We've known baboons to do a six-hour route march to get to bins where they might find bread," O'Riain remarked.
Eventually, Currie managed to get Bart within range, away from the buildings and students at the busy south section of campus. Bart finally succumbed to the sedative on the grassy slopes below the tennis courts. It was Currie's third baboon darting in as many days. All have been members of the Tokai troop, Bart's clan.
Now, Bart's home will be on the range at Cape Point.
"I hope I'm doing him a favour," O'Riain said, examining the sleeping primate's teeth, after Bart had been eased into the cage. "He'll be vying for sexual favours and there are some strapping males at Cape Point."
While sedated, Bart was fitted with a GPS collar.
Here's hoping this bling will attract the wily females of the Deep South.
---
This work is licensed under a Creative Commons Attribution-NoDerivatives 4.0 International License.
Please view the republishing articles page for more information.
---