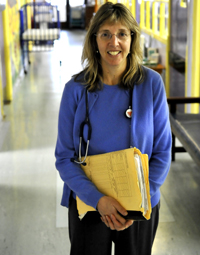 Children in South Africa are getting sicker, reflected in the increasing mortality rates for children under five.
Set against the United Nations' Millennium Development Goals for 2015, it's an area of great concern, says Professor Heather Zar, the new Chair of the School of Child & Adolescent Health.
With the right strategies in place and timely treatment, the rates could be reduced dramatically.
"Most child deaths in the province are preventable," she said.
Zar heads the Department of Paediatric Pulmonology in the school's Institute of Child Health, the country's only sub-specialty facility and home to a huge diversity of expertise.
While HIV/AIDS has a substantial impact on child mortality figures in South Africa, other factors, such as the huge burden of infectious diseases like TB, have increased exponentially.
Add to this the burden of diarrhoea, low birth weight and malnutrition.
"We have an obligation to meet these challenges and reverse this trend," Zar added.
Her vision is for highly specialised services in the context of primary health care.
"As the leading specialised institution we [the ICH] have an opportunity and responsibility to integrate service, research, teaching and advocacy."
The challenge is to balance the huge clinical load with research, development, mentoring staff, and transformation goals. She believes collaboration and innovation are the keys.
"Given the challenges facing us, we'll need innovative and creative approaches to advance child health in the South African context."
Zar has been at the forefront of developing novel approaches and solutions.
Her first breakthrough was devising a cheaper alternative to commercially-produced spacers used in asthma pumps.
The low-cost substitute was designed from an adapted 500ml plastic soft-drink bottle. These spacers are now feature in global asthma-treatment guidelines.
The asthma epidemic has been shifting steadily from developed to developing countries, Zar says, the result of a combination of lifestyle, diet, living conditions, obesity and allergies.
She is also heavily invested in novel TB-testing approaches. Zar has done work on new ways of diagnosing TB in children, especially the use of induced sputum to confirm TB.
"Unexpectedly, this has turned out to be a very good method for confirming TB, even in very young or very sick children."
Improvements in existing culture techniques can also tell researchers whether a TB strain is drug-resistant.
'There's a 3% to 5% drug resistance in children," Zar explained. "The delay in diagnosis is particularly crucial because children do much worse if inappropriately treated."
Another area of innovation is the use of the TB drug isoniazid (INH) to prevent lung disease and progression in children with HIV. Zar's study started in 2002 with children being given the drug as a preventative measure.
The randomised placebo-controlled trial showed dramatic results.
"There's been a huge impact with a decrease in mortality of more than 60% and a decrease in the onset of TB of around 50%," Zar said.
"It's startling."
Her next step is to determine whether the INH will make the same difference to children taking antiretrovirals.
Zar also sees unique opportunities to lead in Africa.
"Academically the school is so well resourced, with scope for the integration of clinical and research programmes.
"With such talented and committed people, it's a privilege to work in the school."
---
This work is licensed under a Creative Commons Attribution-NoDerivatives 4.0 International License.
Please view the republishing articles page for more information.
---