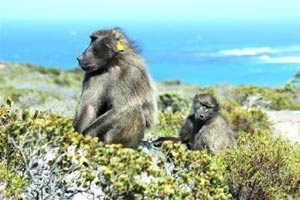 Green Campus? Bart a male chacma baboon like this one, has visited campus regularly this week, foraging from the bins. Will he pilfer people's lunch like the starlings along University Avenue?
We've had many visitors to UCT but probably none as exciting or hairy as Bart the chacma baboon that made himself at home on upper campus this week, loping up Jammie Steps amid startled students, and rifling through bins outside Smuts and Fuller Halls (who says residence food isn't tasty?).
According to Campus Protection Services, the primate hangs about the zoology parking area (someone should tell him he needs a yellow or a red disc to do that).
Bart has an ear tag to facilitate his identification before relocation within Table Mountain National Park and is a dispersing male from the Tokai troop.
UCT baboon expert Dr Justin O'Riain (zoology) tells the sad story of this troop. The pine forest at Tokai offers rich pickings ("Fynbos is difficult to eat"). His MSc student Esme Beamish, who was completing a population census, has found that nearly one-third of the entire Peninsula's population is hiding out in Tokai Forest, soon to be felled and gradually replaced by indigenous vegetation.
"They're showing a strong preference for the pine forest habitat," O'Riain says. Their meanderings away from the forest are always towards their ancestral north and east routes, in the direction of the Hottentot's Holland Mountains, now cut off by the densely developed Cape Flats.
Last year John Wayne, another Tokai rogue male baboon, passed campus en route to the harbour. But Bart seems to enjoy the roof of the Leslie Commerce building. O'Riain quipped: "Clearly he feels most comfortable with the demeanour of humanities students".
Jokes aside, if you do encounter Bart on campus, O'Riain suggests that you conceal your food. If he does see your food and heads towards you, drop it and just walk away. And don't corner him.
"It was very funny to see a horde of students gathered and making ape noises while he sat calmly and surveyed them, like a wise sage from atop the Leslie Building. It certainly would not have been obvious to an alien who was the more sentient being in this little pantomime," O'Riain commented.
O'Riain and Beamish will try to catch and collar Bart on Friday, with the help of a vet, and relocate him to Cape Point, which is lacking adult males.
"Whether the fynbos will be a gastronomic culture shock, we don't know. But we're hoping the lure of sex will win over food."
---
This work is licensed under a Creative Commons Attribution-NoDerivatives 4.0 International License.
Please view the republishing articles page for more information.
---