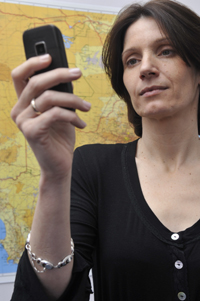 UCT researchers have joined a major international collaboration to speed up both the identification of unsafe water, and getting word out to authorities and at-risk communities.
One of the major challenges in developing countries is monitoring the quality of the water to prevent water-borne diseases - which cause some 1.8 million deaths annually, according to the World Health Organisation (WHO) - and to alert people to trouble spots.
Now Dr Ulrike Rivett and her team in the Department of Civil Engineering are part of a research consortium, led by the University of Bristol, which is building a diagnostic tool by the name of Aquatest. Aquatest will be the world's first low-cost, easy-to-use diagnostic tool giving a clear, reliable indication of water quality.
The University of Bristol received a $13-million grant from the Bill & Melinda Gates Foundation to develop Aquatest. Besides UCT, the University of Bristol intends to subcontract with other institutions and organisations, including the University of California (Berkeley), PATH, WHO, the Aquaya Institute, the Health Protection Agency and the University of Southampton. For their part, Rivett and her team will bring a bit of indigenous knowledge gleaned from Cell-Life, a ground-breaking enterprise that used everyday cellphones programmed to record and monitor the treatment of AIDS patients.
"The question is, how do you get the information about a polluted water source to the people in the community and the appropriate decision-makers, so that something is actually done about it?" says Rivett. The all-too-common cellphone seems a good answer. Rivett and her research team will be responsible for building the information- management system behind the Aquatest project using cellphone technology.
As soon as the water test indicates the pollution level of the water, the result is sent to a database system, which allows the collation of information across the country. Through this data collection it will be possible to create an overview of the status quo of water quality in rural areas, which is important for stakeholders and decision-makers at various levels.
The cellphone-based approach will allow users to collect the water sample result in digital form without having to rely on a computer or a fax machine, explains Rivett. It will also be possible to provide feedback to communities and inform them of possible hazardous situations.
But that may be a little easier said than done. If Cell-Life has taught the UCT researchers anything, it's that the local setup can easily throw the best-laid plans for a loop. "You must make sure you use the device in the context of the country," says Rivett. "Respect the context".
---
This work is licensed under a Creative Commons Attribution-NoDerivatives 4.0 International License.
Please view the republishing articles page for more information.
---