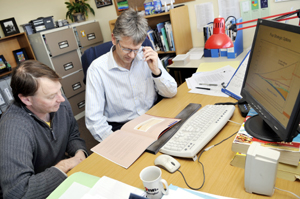 Climate cappers: Work by the ERC's Dr Andrew Marquard (left) and Assoc Prof Harald Winkler has shown what the costs would be should South Africa work on getting its emissions of greenhouse gases to peak and decline.
Associate Professor Harald Winkler and colleagues in UCT's Energy Research Centre (ERC) have just wrapped up a major greenhouse-gases-mitigation project that, in a step in the right direction, has buy-in from the country's biggest players.
In the two-year project, managed by the ERC for the Department of Environmental Affairs and Tourism, a scenario-building team painted a number of possible pictures for South Africa should it cut back (or not) on its greenhouse-gas emissions over the next decades.
The aim was to produce a set of long-term mitigation scenarios (LTMS) that would provide a sound scientific analysis from which Cabinet could draw up a long-term climate policy. At the international level, LTMS provided some 'homework' to inform negotiating positions.
South Africa, explains Winkler, though a signatory to the United Nations Framework Convention on Climate Change as well as the Kyoto Protocol, is one of the highest emitters per capita and per GDP in the world. Head for head, we spew more greenhouse gases into the air than most developing countries.
Under the Kyoto Protocol, South Africa has no quantified mitigation obligations. At least not until 2012, when the country will likely be asked to start cutting back.
One of the stand-out features of the project has been the involvement of players across the board - government (of course), but also representatives from industry, labour, business and civil society, as well as expert facilitators with international experience in scenario building and climate change issues.
"It's important that everyone agrees, as far as possible, with all the numbers and assumptions that go into such a study," says Winkler.
Some of the messages are dire. One of the key findings is that, without constraint, South Africa is likely to see a fourfold increase in emissions by 2050.
Other findings suggest that some mitigation options are immediately implementable, though - such as more aggressive energy efficiency, but also changes to electricity generation. But in the long run, the country must think about its industrial policy, and consider shifts to less emissions-intensive sectors.
One boon is that the message is getting through loud and clear to the decision-makers. The July Cabinet lekgotla agreed that SA's emissions must peak, plateau and decline, so that the country makes a meaningful contribution to keeping temperature increase to below 2°C.
"There is a strong political will in government to take this seriously," says Winkler. "The challenge will be to turn political will into real action."
Come 2012, that will count in our favour.
---
This work is licensed under a Creative Commons Attribution-NoDerivatives 4.0 International License.
Please view the republishing articles page for more information.
---