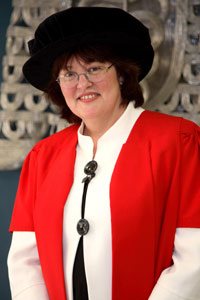 Prevention and treatment of HIV/AIDS are important, but a long-term goal to deal with the pandemic should be focused on vaccination, according to Professor Anna-Lise Williamson.
In her inaugural lecture, Cancer, Viruses and Vaccines, delivered on 17 September, Williamson explained that vaccines may not stop people from getting infected but hopefully will slow disease onset for individuals. In turn, society will benefit from a smaller disease burden, lower transmission rates and slower viral evolution.
Williamson brings extensive scientific experience to her current research, including an investigation on an infectious lung cancer in sheep; her work on human papillomavirus, the cause of cervical cancer, and lately, her focus on HIV.
On the latter, Williamson is the head of a multi-disciplinary team of senior academics, researchers and students to develop candidate HIV vaccines, a project funded by the South African AIDS Vaccine Initiative (SAAVI) since 2000. The first two vaccines developed by her team are scheduled for clinical trials in the US later this year.
Williamson said vaccines are one of humankind's most important inventions, saving up to three million children every year, eradicating smallpox and almost eradicating polio.
In HIV, vaccines could work because humans can regulate their infections, as some individuals control viraemia, the existence of virus in the blood stream, for extended periods. There are also examples of exposed individuals, babies and some sex workers, who do not get infected but have a detectable immune response to HIV.
While two HIV vaccines failed to show protection in efficacy trials, Williamson still believes this is the only way to curb the spread of the virus.
"We need more research to develop innovative vaccines and a robust pipeline of candidate vaccines - not less."
---
This work is licensed under a Creative Commons Attribution-NoDerivatives 4.0 International License.
Please view the republishing articles page for more information.
---