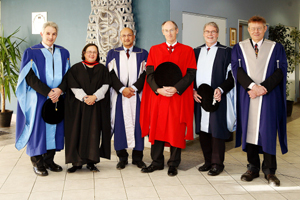 Steadfast developments: Prof Alastair Millar (in red) of the Division of Paediatric Surgery delivered his inaugural lecture on 27 August. Also in picture are (from left): VC Dr Max Price; Prof Marian Jacobs, Dean of the Faculty of Health Sciences; DVCs Prof Daya Reddy and Prof Danie Visser; and Emer Prof Heinz Rode.
South Africa is a dangerous country for children
"After the age of one year, trauma becomes the major cause of death in children," Professor Alastair Millar said in his inaugural lecture, Surgery for Children: In search of perfection.
A UCT alumnus, Millar is the Charles FM Saint Professor of Surgery in the School of Child and Adolescent Health, based at the Red Cross War Memorial Children's Hospital.
In a world where 85% of children need surgical intervention before the age of 16, technological advances in minimally invasive surgery (MIS) have become of paramount importance.
Millar said there were plans to establish a R10-million MIS centre at the hospital, which would "compare with the best in the world".
"It will be a training resource for the continent and beyond, and a major sponsor has come on board.
"It is now estimated that using appropriate and minimally invasive surgery, up to 60% of all general paediatric surgical operations can be carried out this way.
"This is the concept of fast-track surgery, where the in-hospital stay is kept to a minimum. We at the Red Cross Hospital are moving steadfastly in this direction."
Lauding the pioneers of paediatric medicine and surgery in South Africa, Millar also praised the hospital's trauma unit, which treats 10 000 patients a year.
Burn injuries topped the list of preventable accidents, requiring "enormous efforts" of intensive resuscitation, and surgical and rehabilitative care.
"We see 1 200 new burn cases annually.
"The gold standard of care is one day in hospital for every percentile of body surface area burned. [Emeritus Professor] Heinz Rode has taken this standard of care to another level and reduced this to 0.7 days ... a magnificent achievement in our resource-limited environment."
South Africa, said Millar, is ideally positioned to be the medical hub for the region.
"The African continent is still struggling to train sufficient doctors, let alone surgical specialists, for their requirements and it will be decades before any other African nation will have sufficient human resources to deliver health services compatible with what is available in South Africa and in Cape Town in particular."
Millar said the hospital, with the Provincial Government of the Western Cape, had begun the process of building a new theatre complex. This would include three state-of-the-art digitalised theatres, as well as specialist theatres for neurosurgery, cardiac surgery and laparoscopic surgery.
Minimally invasive surgery not only reduces surgical trauma, but is less debilitating and cuts convalescence and recovery time.
"This is particularly relevant to developing nations, as the rapid recovery of patients maximises the use of centralised facilities, freeing up valuable resources for other patients, by reducing the length of hospitalisation required.
"There will also be significant reduction in emotional, social and economic costs if parents or care givers can return to employment sooner."
Turning to HIV and AIDS, Millar said that with better obstetric and perinatal prophylaxis, South Africa hopes to see the downward trajectory of infected children, as witnessed in other countries where the focus has been on mother-to-child-infection prevention.
A special area of interest for Millar is liver disease. Despite reduced resources at Red Cross Hospital, the team had achieved a more than 80% long-term survival rate after liver transplantations, with many of the 56 survivors having grown up to be productive young adults leading normal lives.
"When we started 20 years ago there was no map into the future. The future was faith and hope and the courage of parents and children."
In his vote of thanks, Emeritus Professor Heinz Rode said he had seen Millar grow from an inexperienced young surgeon to one who commands the respect of the national and international surgical fraternity.
"You have been elected as an executive member of the World Federation of Associations of Paediatric Surgeons and will be their next secretary. A singularly high honour.
"You've been invited to England to become professor and lead surgeon in hepatopancreaticobiliary surgery, liver and intestinal transplantation."
Dean of the Faculty of Health Sciences, Professor Marian Jacobs, said that as a paediatric surgeon, Millar is highly regarded by his peers.
"His expertise in paediatric liver disease and transplantation is widely cited as being without equal; and over the years he has developed skills in paediatric nutrition; oncology, burns and trauma; and small bowel disease, including transplantation.
Jacobs said that other disciplines had also laid claim to Millar's clinical excellence:
"I recall that when he left Red Cross in 2003, to take up his position in the UK, Prof Louis Reynolds mourned the loss of Alastair not as a paediatric surgeon, but as one of our best paediatricians."
---
This work is licensed under a Creative Commons Attribution-NoDerivatives 4.0 International License.
Please view the republishing articles page for more information.
---