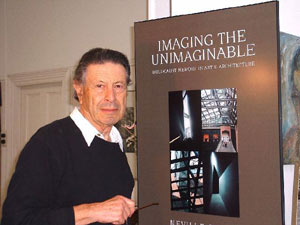 The University of Cape Town pays tribute to artist, lecturer and writer Emeritus Professor Neville Dubow, who died on Sunday 24 August at the age of 74.
He was Michaelis Professor of Fine Art at UCT and director of the Michaelis School of Fine Art from 1971 to 1988.
His name is also synonymous with the Irma Stern Museum, of which he was the founding director. He remained a director from the time of its establishment in 1971 to his retirement from UCT in 1998.
Dubow was one of a small group of scholars and academics who were responsible for the style and content of the museum, which had formerly been the artist's home. He was a personal friend of Stern and as a foremost art journalist and critic he wrote extensively about her work from the 1960s to the present day.
He leaves behind a legacy of scholarship on the artist which includes the publications Paradise, The Journal and Letters (1917 -1933) of Irma Stern and Irma Stern, published by Struik Publishers.
A multi-disciplinarian, trained both in art and architecture, he wrote and lectured extensively in both these fields as well as practicing as a photographer. In 1992 he was guest artist at the Standard Bank National Arts Festival in Grahamstown and since his retirement in 1998 has been active as a researcher and lecturer in the area of memorials and memorialisation.
During his period as director of Michaelis, he fearlessly steered the school through turbulent political times, defending student protest and encouraging them to use their creativity to resist the ills of society.
Numerous essays have appeared in catalogues most notably for the major Standard Bank sponsored retrospective exhibition in 2003.
As the Irma Stern Museum's director, Dubow was a member of the Universities Works of Art Committee and contributed substantially to its workings. As an artist, Dubow is represented in the Universities Works of Art collection by his painted steel sculpture, Sunburst, housed in the main library.
Dubow held visiting professorships in England, the States and Israel.
Emeritus Michaelis Professor Bruce Arnott shared some memories.
"I first met Neville Dubow in 1957 at an exhibition of watercolours by architect Paul Andrew in Pepper Street. In those days Neville cut a dashing figure at evening dos in a black cape with scarlet lining. He could usually be heard bandying multisyllabic words that most of us believed belonged between the covers of a dictionary ('paradigm', 'dialectic', 'epistemology'), whereas Neville used them with eloquence and intent. From the early 1960s he wrote sparkling art critiques for the Cape Times - insightful, sharply analytical and widely philosophical.
"Later on (1970-1972) when Neville was at the Michaelis, and I was at the SA National Gallery, he and I worked on the User Committee of the nascent Irma Stern Museum; he on Irma's creative oeuvre, I on her collections of art.
"Neville was to become director of the museum, which he served with distinction for many years. His subsequent publications on Irma Stern established his reputation as a specialist historian of German/South African Expressionism.
"Round about November 1977 I was rusticating happily in the Natal Drakensberg when I received a telephone call from Neville suggesting that I might find more constructive ways of spending my life. So in 1978 I found myself back at the Michaelis, and re-embarked on an academic career. For that, among many other steadying moments, I remain very much obliged to his generous sagacity. Until the late 80s Neville and I shared the hurly-burly of creative and academic life at the Michaelis, where we both served as director and HOD, though Neville for very much longer. Indeed, I believe he was one of UCT's longest serving professors.
"At work Neville was a caring colleague, and a warm friend. In 1996 he marked the installation of my sculpture Alma Mater on the Middle Campus at UCT with a typically elegant public address that contained a vivid explication of the intentions of the piece. In his text he drew parallels between the caryatid format of this UCT sculpture with that of the Buli master in Irma Stern's collection of central African art and the caryatid figures of the Erectheion on the Athenian Acropolis.
"At home he was a family man, who sought solitude at his 'dacha' on Zeekoevlei. A man of diverse enthusiasms, Neville's recreational activities ran to cycling, yachting, archery and flying kites, all at competitive level. I remember his triumphant completion of the Argus cycle tour, at the Camps Bay beachfront in about 1985/6.
"Neville's contribution to the art school was salutary. He introduced, inter alia, the Basic Design and Photography courses, and taught History of Art, Theory and Practice of Art, Photography, and aspects of most other disciplines. His own creative work centred on the development of elegant mobiles, and on content rich photographic imagery, often in series, where he very much made his mark.
"As dean of the Faculty of Fine Art & Architecture, Neville made a notable impact on intra-faculty dynamics. When the architects feigned tactical ignorance of the existence of the fine arts, Neville could be depended upon to bring them to their senses.
"Trained as an architect, he had a profound knowledge of architectural history, theory and practice, which he could also apply to matters of problem solving in the fine arts. At the best of times he provided an important link between architects and artists, and was much respected by his peers in both disciplines.
"Neville's moral aesthetic was very much informed by wide reading and interest in the visual and performing arts (which would include film), informed by the likes of Berger and Hauser, Tolstoy and Dostoevsky, Brecht and Weil, (too many to mention of course), the Bauhaus, DADA and the Cabaret Voltaire, the Theatre of the Absurd, Beckett and Genet, Expressionism and Post Modernism, all of which (and much more) he applied to the nuancing of his incisive analysis of the doom-filled problematics of the South African Nationalist Socialism, German Nazism and the Holocaust.
"By contextualising South African art in this way, through his formal teaching, public lectures and newspaper critiques, he raised the intellectual level of the debate, which gave substance to the fine arts, and status to the profession. He leaves a space that is a mighty challenge to the rising generations of artists and architects in this country.
"I last saw Neville, with his dear wife Rhona, at Pippa Skotnes' and Stephen Inggs' epic Michaelis banquet in December last year. He was in the very best of form, warm, wise and witty, and that is how I will remember him."
Dubow is survived by his wife, Rhona, children, Saul, Gideon and Jessica, and grandchildren, Talitha, Bethany, Zac, Leila, and Thomas.
---
This work is licensed under a Creative Commons Attribution-NoDerivatives 4.0 International License.
Please view the republishing articles page for more information.
---