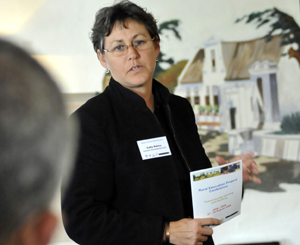 For change: Cally Kühne was one of the Rural Education Project members from UCT who attended a conference on the project.
The schools development plans aimed at boosting education at rural Western Cape schools will take centre stage as the Rural Education Project (REP) enters its third and final phase.
The project team will support the schools to draft improvement plans that would be aligned with the plans of the district offices of the provincial education department, said project manager, Cally Kühne.
This was one of the key outcomes of a two-day conference on REP, hosted by UCT's Schools Development Unit in Grabouw from 27 to 28 August.
The project is a partnership between UCT, the Western Cape Department of Education, the Claude Leon Foundation, and the Foschini Group.
It began in 2006 to improve the quality of teaching and learning in 38 primary schools in the rural districts of Eden Karoo, Breede River, Overberg, the Cape Winelands and West Coast.
Members of the project offer numeracy and literacy interventions at participating schools, supporting curriculum advisors, teachers and principals to improve learner performance and classroom practice.
Kühne said the project had focused on interventions in the classroom and teacher support. But now the specific focus would turn to strategic plans for the whole school's development.
"We will sit with teachers and principals and discuss school plans from the management level, and see how to align them with district plans," Kühne explained.
About 60 people, including the project team, teachers, curriculum advisors and circuit managers attended the conference to reflect on the gains thus far.
"We shared with funders our progress to date, learnings from different interventions and discussed the way forward as part of the project exit strategy," Kühne said.
Among the issues raised were teacher capacity, content, pedagogic knowledge, and how to bridge the gap between policy and practice.
One of the good things about the conference, Kühne said, was that it gave teachers, who are normally left out of debates, a platform to voice their views.
The project will be concluded at the end of 2009, but there are discussions to replicate some of the models, and certain funders have shown interest in taking the project forward.
---
This work is licensed under a Creative Commons Attribution-NoDerivatives 4.0 International License.
Please view the republishing articles page for more information.
---