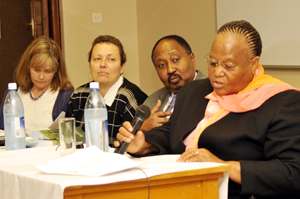 Lay of the land: Speakers at the launch of UCT Press' Land, Power & Custom were co-editor and contributor Aninka Claassens; Janet Love, head of the Legal Resources Centre; DVC Prof Thandabantu Nhlapo; and Lydia Ngwenya, MP and founder and patron of the National Movement of Rural Women.
By happy coincidence, deputy vice-chancellor Professor Thandabantu Nhlapo got to revisit some familiar stomping grounds when he hosted the launch of the book, Land, Power & Custom: Controversies generated by South Africa's Communal Land Rights Act, the latest title from the back-on-its feet UCT Press.
The title, a joint project between UCT Press and the Legal Resources Centre, examines some of the impacts of the Communal Land Rights Act, aka Clara, on issues such as women's rights and the status of customary law. Many of the chapters argue that the Act "entrenches distortions" that have its roots in colonialism and apartheid.
As it turned out, Nhlapo, who hosted the launch as a UCT executive and doubled as a guest discussant, is also one of the expert witnesses in a High Court case challenging the constitutionality of the Act on the basis that it "extinguishes the customary law rights of rural women to land".
Other UCT personnel had a more direct hand in the book, though. Professors Tom Bennett and Christina Murray of the Department of Public Law and Associate Professor Lungisile Ntsebeza of the Department of Sociology all contributed chapters.
Land, Power & Custom is the third in a string of titles to be released by the revitalised UCT Press over coming months after a decade-long lull.
---
This work is licensed under a Creative Commons Attribution-NoDerivatives 4.0 International License.
Please view the republishing articles page for more information.
---