Structural biology PhD students Serah kimani and Robert Thuku have won major awards at the Microscopy Society of Southern Africa meeting in Gaborone, Botswana.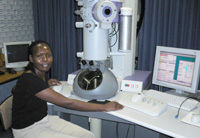 Kimani won the JEOL prize for the most promising black microscopist. This will enable her to present her work at a major international conference. She is studying the enzyme NAD+ synthetase from Mycobacterium tuberculosis. It is widely regarded as a drug target.
Kimani's work has led to the first visualisation of the intact enzyme - albeit at low resolution at present. The work is an extension of her groundbreaking work on the amidase. This has fostered an understanding of the mechanism of this enzyme, which constitutes a half of the NAD+ synthetase.
Her work is also partly sponsored by the International Union of Crystallography. Her NAD+ synthetase work is being sponsored by a major grant from the International Centre for Genetic Engineering and Biotechnology.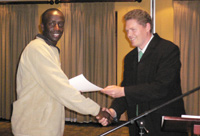 Thuku nabbed the FEI prize for the best electron microscopy paper published by a member of the society in 2007.
It described the structure of the nitrilase from Rhodococcus rhodochrous J1, an important industrial enzyme. His futher PhD studies, partly sponsored by the CSIR and the International Union of Crystallography, examine the mechanism of the enzyme activation by oligomerisation and the control of the oligomeric state.
He hopes to do this using the field emission electron microscope recently acquired by the Electron Microscope Unit.
---
This work is licensed under a Creative Commons Attribution-NoDerivatives 4.0 International License.
Please view the republishing articles page for more information.
---