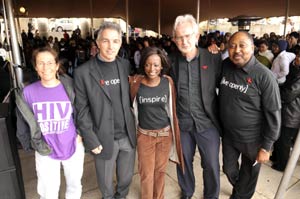 Supporters: Prof Nicoli Nattrass, award-winning author of 'Mortal Combat: AIDS Denialism and the Struggle for Antiretrovirals in South Africa and The Moral Economy of AIDS in South Africa'; Vice-Chancellor Dr Max Price; MC Hlubi Mboya, who plays the HIV-positive Nandipa in soapie Isidingo; DVC Professor Martin Hall, who oversees UCT's HIV/AIDS initiatives; and DVC Prof Thandabantu Nhlapo, who oversees student matters.
Just over 300 staff and students joined Vice-Chancellor Dr Max Price and outgoing Deputy Vice-Chancellor Professor Martin Hall at the UCT Stop Stigma Rally, organised by HIV/AIDS Coordination - UCT (HAICU), on 21 August.
"The rally aimed to demonstrate UCT's rejection of stigma and discrimination around HIV/AIDS on campus, and to promote an environment in which people living with HIV can feel they can disclose their status if they so choose" said HAICU director, Cal Volks.
"Some HIV-positive people don't disclose their status for fear of being stigmatised," adds Volks. "As a result, many people may not be receiving the support they need."
"Stigma is everyone's problem," said Price, "because if you contribute towards stigmatising attitudes and people feel afraid to disclose when they are HIV-positive, then it places everybody at risk."
"Ignorance and fear, the root causes of stigma, have resulted in 'othering' and denigration, or targeting of difference," said Hall. "As we stop HIV and AIDS stigma, may we also learn valuable lessons around embracing diversity and stopping all forms of discrimination."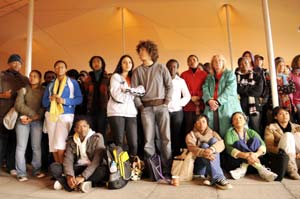 Students and staff attended the stop-stigma rally in support of the initiative by HAICU
---
This work is licensed under a Creative Commons Attribution-NoDerivatives 4.0 International License.
Please view the republishing articles page for more information.
---