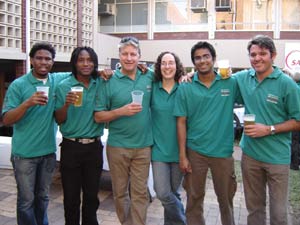 In the name of science: UCT brewers from the Bioprocess Engineering Research Unit in the Department of Chemical Engineering took part in the inaugural intervarsity beer brewing competition. In picture are (from left) Sonwabo Mlisana, Lindizwe Zibi, Denis da Silva (trade brewer at SAB), Sarah Dowling, Hari Sudhakaran, and Dr Clive Garcin.
Quaffing a fine ale, lager or speciality beer is one thing, but creating an award-winning brew is quite another, brewers from UCT's Bioprocess Engineering Research Unit found.
Flying the UCT flag at the recent inaugural intervarsity brewing competition in Pietermaritzburg, two of the of unit's three offerings narrowly missed honours.
The competition, the first of its kind worldwide, is the brainchild of Ben Lamaletie, the trade brewer at SAB's Prospecton brewery in Durban. Lamaletie has been working closely with the University of KwaZulu-Natal's chemistry department that has been running a microbrewery for seven years. UCT got a SAB microbrewery two years ago.
It was the success of the microbrewery at UKZN that inspired SAB to donate these to the other universities. The competition was sponsored by SAB, the Institute for Brewing and Distilling, and the food and beverage SETA.
The competition was hosted at UKZN and participating universities included Pretoria, Wits, Northwest, and Stellenbosch. Each team had to brew three beers: a lager, ale, and a "speciality" beer.
Overall winners were Pretoria University with their American Pale Ale.
The judges were highly qualified official tasters from SAB.
What do they look for?
"A clear, good tasting beer with good head," said UCT's Dr Clive Garcin.
The most difficult aspect is avoiding contamination.
"There are at least 30 different defects that the judges look for, such as dimethyl sulphide (cabbage flavour) or diacetyl (butterscotch flavour) are two common ones," Garcin said.
And you thought intervarsity was all about sport.
This work is licensed under a Creative Commons Attribution-NoDerivatives 4.0 International License.
Please view the republishing articles page for more information.
---