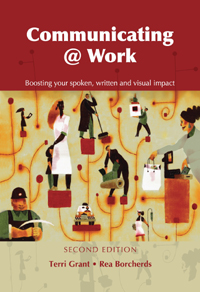 UCT's Professional Communication Unit (PCU) is toasting the release of the second edition of Communicating @ Work: Boosting your spoken, written and visual messages. Author Terri Grant, head of the PCU in the School of Management Studies, and co-author Rea Borcherds, ex- PCU director and corporate coach, have used the additional 32 pages to update existing data and add new ideas - essential in this ever-changing field. Communicating @ Work deals with the complexity of communication in today's multicultural and technological environment, where job-seekers need to be communicatively competent, mobile, entrepreneurial, innovative and well connected, says Grant. The book not only covers formats for letters, emails, reports and proposals, but uses a holistic, skills-based approach to explain how to handle unique and often unpredictable situations in the workplace successfully. It also includes international and local examples, and a new chapter on writing know-how, a full-length business proposal and an 'e-chat' discussion forum to encourage networking and debate. See the PCU website for details.
Director of the African Centre for Cities Professor Edgar Pieterse's new book, City Futures: Confronting the crisis of urban development, coincides with an important global marker. This year more than 50% of the world's 6.68 billion people will be living in cities and towns. While the Southern Hemisphere accounts for most of this urban growth - with its attendant problems such as slums, poverty, unemployment and lack of governance - its citizens remain cut off from the economic, social and political advantages of urbanisation. "We sit with the irony that the concentration of the world's urban challenges is prevalent in the global South, but probably 95% of the research and knowledge on the issues is generated in the North," Pieterse said at the launch. "I'm hoping the book will demonstrate that we tell this story in more compelling ways. In the practice of living with these challenges, we probably have more innovative ideas about what needs to be done and how to go about it."
The Department of Accounting made a clean sweep of prizes at the inaugural 2008 Deneys Reitz National Tax Thesis Competition, scooping R20 000 in prize money, it was announced at a gala dinner in Johannesburg. The winner in the doctoral category was Dr Matthew Marcus, whose thesis was supervised jointly by Associate Professor Jennifer Roeleveld. Marcus won the award for his thesis, A Quantitative and Qualitative Analysis of the South African Tax System 1995-2005. Ilse Gaum won the honours award for her research report, Withholding Tax on Immovable Property Disposals by Non-Residents. Marcus and Gaum each pocketed R10 000.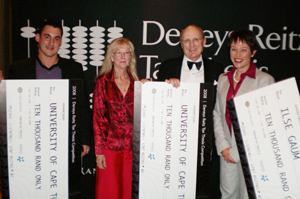 Taxing work: Dr Matthew Marcus and Ilse Gaum, winners at the inaugural Deneys Reitz National Tax Thesis Competition, with UCT's Prof Peter Surtees and Assoc Prof Jennifer Roeleveld.
The Western Cape Minquiz Team - supported by UCT's Paul Bepswa - swept all before them at the National Minquiz Finals, regarded as South Africa's premier annual national science competition for grade 12 learners, in Gauteng on 25 July. The team trumped Free State, Gauteng, North West, Limpopo and KwaZulu-Natal for honours. For their efforts, the winning contestants each pocketed a hefty half-Kruger Rand, courtesy of Rand Refineries, in addition to the usual trophies and cash prizes. The team also picked up the prize for designing the fastest soap box in a derby race, and for the most economical (and effective) design in the egg-drop contest, where they had to build some form of protection for a raw egg dropped from a height of three storeys.
Work to identify a glycoprotein fragment found in the crude mucus secretions of gastric cancer patients has won PhD student Nthato Chirwa the Roc Kaschula Award. The award honours the best presentation by a young researcher, and was made at the recent 48th Annual Congress of the South African Societies of Pathology. Chirwa's supervisor, Professor Anwar Mall (Division of General Surgery Research Laboratory), started this study in the 1990s with Emeritus Professor David Dent. Using mucus samples provided by Associate Professor Eugenio Panieri at Groote Schuur Hospital, Chirwa purified and isolated the glycoprotein in the laboratory. He successfully raised a polyclonal antibody to it with Professor Dirk Bellstedt of the University of Stellenbosch, and then located its pattern of expression in normal and diseased gastric cancer tissue with UCT's Professor Dhiren Govender. Chirwa identified the fragment as orosomucoid, an acute-phase protein, with Dr Bongani Dimba of the University of the Western Cape. Mall hopes a grant will support further work to investigate the role of orosomucoid in the pathogenesis of gastric cancer, a disease prevalent in the Western Cape.
The South African Women in Science and Engineering (SA-WISE) organisation hosted a women's day function, targeting a predominantly female audience of high school students, at the MTN ScienCentre at Canal Walk on 8 August. Speakers at the SciCafé included GIS (Geographic Information Systems) mapper Takadzani Rambuda, conservationist Katy Lannas, chemical engineer Melinda Griffiths, immunologist Boipelo Sebesho, bat researcher Lizelle Odendaal - all from the University of Cape Town - and systems biologist Jennifer de Beyer of the University of Stellenbosch. The event was put together by UCT and SA-WISE's Professor Anusuya Chinsamy-Turan, author of the recent Famous Dinosaurs of Africa.
Western Cape electoral officer, Reverend Courtney Simpson, has urged Student Representative Council candidates to manage perceptions and work towards transparency if elected. Speaking at UCT's 2008 SRC elections launch, with the theme "Building Democracy", on 11 August, Simpson said perceptions and transparency are crucial in democracy. "In democracy, people need to participate to express their wills," he explained. "Their perceptions can either hamper or encourage them to participate". At the launch, which was also attended by outgoing SRC president Thulani Madinginye and executive director of Student Affairs Moonira Khan, all but one of the 28 candidates introduced themselves to the cheering, whistling and ululating crowd. The launch was followed by the first of the five question-and-answer sessions at Liesbeek Residence. The sessions continued at Tugwell Hall, Clarinus, Rochester House and Forest Hill over the rest of the week.
Voting is from 18 to 22 August.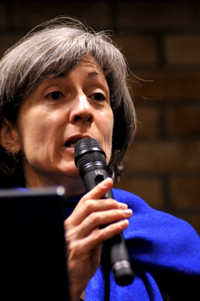 The Transformation and Equity Portfolio of the Faculty of Health Sciences ensured that the faculty's women were recognised during Women's Month, arranging an early Women's Day celebration on 7 August. The programme included a performance by the UCT School of Dance and an inspirational presentation by a visiting professor from the University of Ottawa in Canada, guest speaker Dr Rachel Thibeault. Thibeault's presentation, on community-based approaches to promote the rights of women and children in Africa, provided a sometimes-harrowing insight into the lives of women and children in countries such as Sierra Leone and Nicaragua. Dean of the Faculty of Health Sciences, Professor Marian Jacobs, challenged the audience to find their own place in the UCT and faculty community, and to play a part in finding solutions both within the faculty and in the wider community.
The records of the Black Sash are now more easily accessible to researchers, thanks to a web-based guide to the Black Sash Archival Collections in South Africa. The fully searchable and comprehensive catalogue, a joint project of UCT Libraries and the Black Sash, and funded by the Andrew W Mellon Foundation, was launched at UCT on 7 August. Lesley Hart, manager of Special Collections Information Services at UCT, said the project was born out of a suggestion for a catalogue when the Black Sash celebrated its 50th Anniversary in 2005. As well as its role in opposing apartheid legislation, the Black Sash monitored areas in which there was unrest, and as it was one of the few organisations trusted by the communities to do this, its archives are an important record of this part of our history. The database, with more records to come, can be found here.
New guide: Mary Burton, former Black Sash President, researcher Helen Joannides, Lesley Hart and Dr. Stuart Saunders, representing Andrew W Mellon Foundation at the launch of the Black Sash Archival Collections.
Operation Reach Every Street, a project initiated by UCT medical students to feed the hungry, has borne new fruit. Recently UCT, residence food contractors RoyalSechaba and Feedback Food Redistribution signed an agreement that will see surplus unplated food from residence kitchens donated to the needy. For some time now Operation RES students have been taking surplus residence food to various shelters. However, this created certain risk factors for RoyalSechaba, including possible food contamination. "This is a landmark partnership because the UCT contract is one of the larger institutional contracts in the city, feeding about 4 000 students daily during term time and also servicing a limited number of vacation guests," said Residence Life manager Charmaine January. The partnership would afford the university and the students in residence an opportunity to realise one of UCT's main social responsibility goals, added January. (To find out more about Operation RES, contact Shivani Pillay or Anja Reuter).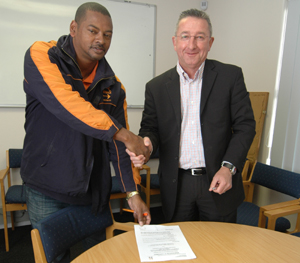 Shake on it: (Left) Feedback's Freddy Janeke (distribution co-ordinator) and RoyaSechaba's Mark Taylor (national head of operations), at the signing of an agreement with UCT to distribute surplus, unplated food from residence kitchens to the needy.
UCT's Department of Computer Science, the European Organisation for Nuclear Research (CERN), and the Africa@Home project have started a volunteer computing service that will enable "ordinary people" around the world to run large - and potentially ground-breaking - computational experiments. The project harnesses spare, donated computer cycles, putting them to good use by downloading a small application from a desktop computer and connecting it to a volunteer computing project of the volunteer's choice. "They are then assigned a work unit and a small part of the larger computations, part of a much larger experiment or research project," computer sciences' Christopher Parker said. The project has seen the installation of what is reportedly the first publicly accessible volunteer computing server in Africa. This test project is doing malaria simulations in collaboration with the Swiss Tropical Institute. With over 600 national and international volunteers, about 680 connected computers and over 3 500 workunits being processed, it is a noteworthy milestone. "We're hoping to get more people interested in volunteer computing by bringing such technologies to light since the aim of the Africa@Home project is to make these technologies accessible to African people, particularly to researchers and students." (For more information on Africa@Home, click here and here)
---
This work is licensed under a Creative Commons Attribution-NoDerivatives 4.0 International License.
Please view the republishing articles page for more information.
---