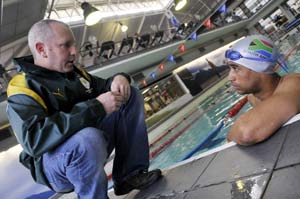 Taking the plunge: Prof Wayne Derman with one of the athletes he'll accompany to the Paralympic Games in Beijing, swimmer Achmat Hassiem. Hassiem lost a leg in a shark attack a few years ago.
UCT's Professor Wayne Derman has been appointed as the team physician for the South African Paralympic squad that heads for Beijing at the end of the month.
Derman, based in the MRC/UCT Research Unit for Exercise Science and Sports Medicine (ESSM), is no novice to Olympian events - he also headed up the medical teams for the Sydney and Athens Olympics in 2000 and 2004, respectively.
Despite the team's disability status, many of the challenges are similar for both Olympic and Paralympic squads, says Derman. That includes getting the team over their initial jet lag - diarise a week for that - and coping with Beijing's notorious pollution problems.
Derman figures the latter shouldn't worry his athletes too much, and frets more about the heat. Even though events are scheduled for mornings and evenings, the mercury is still expected to hit the 36ºC mark.
Despite being a "robust" group, the 60 Paralympians do come with challenges unique to them. That signals plenty of work for the two physicians and, especially, the seven physiotherapists on the medical team. But it's also a golden research opportunity for Derman who has a special interest in performance psychology. By sheer medal count, the SA Paralympic squads have for some time gone their Olympian compatriots a few better. And things look to be little different this year.
There's a lot to be learned from athletes who have overcome some pretty difficult, even life-threatening, obstacles.
"To look at the psychology and how that relates to performance, this is a very interesting group to study," says Derman.
---
This work is licensed under a Creative Commons Attribution-NoDerivatives 4.0 International License.
Please view the republishing articles page for more information.
---