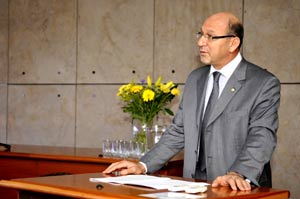 Minister of Finance, Trevor Manuel, will speak at a public conversation seminar titled Voices, Visions and Hopes of Our Youth: What's missing in our new democracy, at UCT on Tuesday, 12 August.
A public conversation will bring together Dr Alex Boraine, former deputy chairperson of the Truth and Reconciliation Committee; former UCT Vice-Chancellor Dr Mamphela Ramphele; and Minister of Finance Trevor Manuel at UCT on 12 August.
Inspired by the words of Nelson Mandela, "When you invest in the youth, you invest in the future", the seminar, titled Voices, Visions and Hopes of Our Youth: What's missing in our new democracy, will be led by a representative group of five young people from Khayelitsha, Athlone and Rondebosch who will discuss the challenges they face as young people in South Africa.
UCT scholar and organiser of the event, Associate Professor Pumla Gobodo-Madikizela, said: "The emergence of new challenges and threats to our democracy have made the need for dialogue in our society more important than ever.
The public conversations are designed to enhance healthy exchange among South Africans from all walks of life, and to generate public dialogue about how the challenges can become opportunities for engagement on a range of levels that could strengthen our democracy.'
The seminar will look at issues such as what kind of youth leadership is necessary to address the diverse needs of our youth, and how we can create the conditions necessary for the different voices of South African youth to emerge and engage in public dialogue about their daily struggles.
The event is open to all staff, students and the public, and will be held in The Atrium, Kramer Law Building, Middle Campus, from 17h30.
Read more in the media release
---
This work is licensed under a Creative Commons Attribution-NoDerivatives 4.0 International License.
Please view the republishing articles page for more information.
---