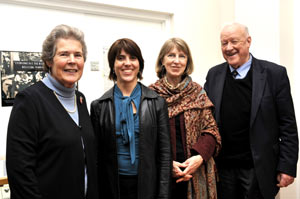 New guide: Mary Burton, former Black Sash President, researcher Helen Joannides, Lesley Hart and Dr. Stuart Saunders, representing Andrew W Mellon Foundation at the launch of the Black Sash Archival Collections.
The records of the Black Sash are now more easily accessible to researchers, thanks to a web-based guide to the Black Sash Archival Collections in South Africa.
The fully searchable and comprehensive catalogue, a joint project of UCT Libraries and the Black Sash, and funded by the Andrew Mellon Foundation, was launched at UCT on 7 August.
Lesley Hart, manager of Special Collections Information Services at UCT, said the project was born out of a suggestion for a catalogue when the Black Sash celebrated its 50th Anniversary in 2005. As well as its role in opposing apartheid legislation, the Black Sash monitored areas in which there was unrest and, often being one of the few organisations trusted by the communities to do this, their archives are an important record of this part of our history. In addition, the records of the Advice Office reflect the daily realities of people living under apartheid.
There are some full-text documents available from the site and more will be added when digitized.
As the records of the Black Sash are dispersed, having been disposed in several repositories, the database is an important tool in helping researchers locate relevant material.
---
This work is licensed under a Creative Commons Attribution-NoDerivatives 4.0 International License.
Please view the republishing articles page for more information.
---