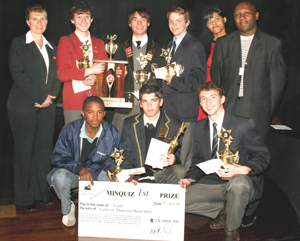 Quiz masters: The Western Cape Minquiz Team won the National Minquiz Finals in Gauteng in July. Pictured are, back row, Nicola Barkway (Rand Refinery), Matthew Gadd, Teodor Rolofse, Thomas Weghill, Nomtha Myoli (the Academy of Science of South Africa) and Petrus Fusi (Mintek). In front are Sibongile Ndlwana, Matthew Murray and Andre Olivier.
The Western Cape Minquiz Team - supported by UCT's Paul Bepswa - swept all before them at the National Minquiz Finals, regarded as South Africa's premier annual national science competition for grade-12 learners, in Gauteng on 25 July.
"Half-way through the contest, the team was lying fifth, but they managed to pull themselves together and in a nailbiting finish came back to finish first," reports Bepswa of UCT's Department of Chemical Engineering, who accompanied the team to the Gauteng finals. Bepswa was also responsible for the provincial Minquiz competition in May where the Western Cape team was selected.
The team trumped Free State, Gauteng, North West, Limpopo (5th) and KwaZulu-Natal for honours. For their effort, the winning contestants each pocketed a hefty half-Kruger Rand, courtesy of Rand Refineries, in addition to the usual trophies and cash prizes.
But the team picked up a few other awards as well. Such as the prize for designing the fastest soap box in a derby race, and for the most economical (and effective) design in the egg-drop contest, where they had to build some form of protection for a raw egg dropped from a height of three storeys.
---
This work is licensed under a Creative Commons Attribution-NoDerivatives 4.0 International License.
Please view the republishing articles page for more information.
---