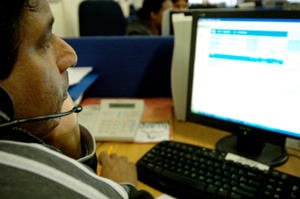 AT the coalface: Jeffrey September fields a call at the ICTS Helpdesk.
Who works in the first-level support team and what do they do on a daily basis?
The first-level support team consists of 11 consultants who provide telephonic support to approximately 5 000 UCT staff members and postgraduate students. They answer and respond to phone calls, as well as calls logged via the web or email, and handle approximately 2 000 calls a week.
How does the process work? What happens after a call has been received?
The call is logged in the call logging system and a reference number is allocated. A consultant will attempt to solve the problem while the customer is on the phone. The Helpdesk aims to solve the problem and close the call on first contact. If a call cannot be fixed over the phone, then it will either be sent to the second-level support team, who will visit the caller in his or her office, or it will be sent to another IT service point where the necessary steps will be taken to resolve the call; eg networks, servers, network space, etc.
What are the skills required for the job and why choose this as a job?
Consultants need strong IT knowledge and the ability to communicate well. They should be able to problem-solve and need to have patience to deal with upset or angry customers. Call centres are highly stressed environments, so consultants need to be able to cope with the stress.
The job is challenging and rewarding for consultants when they solve a problem, enabling the customer to continue with their work. And it's exciting being exposed to new developments in information technology.
What is the strangest thing to have happened in the line of duty?
A consultant was once asked to go to someone's office to clean their monitor after a bird flew into the room and poohed on it.
What are the highs and the lows of the job?
The Helpdesk has considerate customers, say consultants - they're always very appreciative and indicate that they know how stressful work must be at the Helpdesk. On the downside, it is really frustrating when an issue makes the calls to the Helpdesk spike suddenly. Then the stress levels skyrocket and it is difficult to keep control of all the calls.
---
This work is licensed under a Creative Commons Attribution-NoDerivatives 4.0 International License.
Please view the republishing articles page for more information.
---