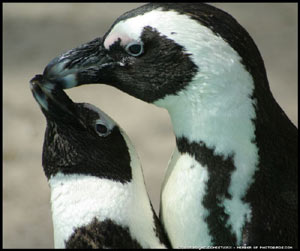 Spotted: The Penguin Recognition Project focuses on African penguins because their numbers have rapidly dwindled from more than one million at the start of the last century to fewer than 170 000 today
It's all in the spots.
That's what scientists have used for a new visual surveillance system that will capture reliable data on the population dynamics and social behaviour of endangered species like penguins, whales and butterflies, animals with distinctive markings on their bodies.
The new technology went on show at the prestigious Royal Society Summer Science exhibition (30 June to 3 July).
It's already being used for a penguin monitoring project run by two computer science PhD students from Bristol University, Tilo Burghardt and Richard Sherley, co-supervised by Professor Les Underhill at UCT's Animal Demography Unit.
Working with African penguins (Spheniscus demersus) on Robben Island, they are using the intelligent, visual surveillance system to track the birds. Penguins have distinctive patterns of black spots that don't change as they grow and moult.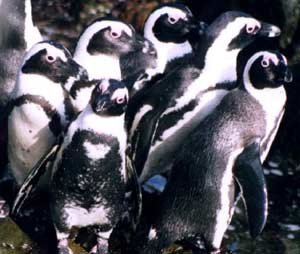 The basic image-recognition system can be used for any species with complex surface patterns, including sharks. And by using infra red imaging, animals can be scanned day and night.
"Tilo's software can 'fingerprint' the penguins from their spot patterns," Underhill said. "The beauty of the system is that it can be integrated into wildlife habitats as a non-intrusive means of capturing detailed and reliable data," Burghardt said.
The research advances techniques that originated in computer vision and human biometrics. Sherley has set up a camera along the "penguin paths" on the island.
"Robben Island has these penguin highways that you don't get elsewhere," Underhill added. "You can use the information to determine patterns of arrival and departure and whether the patterns change in time and in relations to food availability."
The Penguin Recognition Project is supported by international environmental charity Earthwatch, and the Leverhulme Trust. It is the brain child of Peter Barnham, Professor of Physics at Bristol University and penguin fanatic.
---
This work is licensed under a Creative Commons Attribution-NoDerivatives 4.0 International License.
Please view the republishing articles page for more information.
---