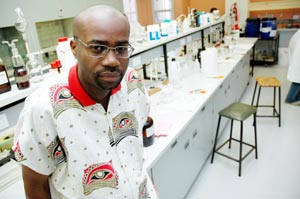 Major funding: Prof Kelly Chibale (above) and his counterpart, Dr Collen Masimirembwa of Zimbabwe, have received significant funding from the European Union towards the development of new antimalarial drug development
Professor Kelly Chibale, who holds the DST/NRF South African National Research Chair in Drug Discovery, and Dr Collen Masimirembwa, have been awarded a R8.5 million grant over three years by the European Union, through the AntiMal consortium.
Masimirembwa is chief scientific officer and founder of the African Institute of Biomedical Science and Technology (AiBST) in Zimbabwe.
This award targets African scientists who are able to strengthen the research capacities and infrastructure of their host African institution in antimalarial drug discovery and development. The competitive call was managed by AntiMal's co-ordinating institution, the Liverpool School of Tropical Medicine, in collaboration with the World Health Organisation and its malaria research capacity-building arm, Multilateral Initiative on Malaria with the Tropical Disease Research.
Chibale and Masimirembwa will work to improve preclinical pharmacology in the medicinal chemistry of lead antimalarial drug discovery and optimisation. The respective groups will improve facilities and expertise to test potential antimalarial molecules generated at UCT and within the AntiMal consortium.
The grant will support postdoctoral fellows who will work on the computational side of the project. It will also support the malaria parasite culturing work in the laboratories of Professor Peter J Smith of UCT's Division of Pharmacology.
"Overall this partnership will uniquely promote South-South collaboration and technology transfer in the area of ADMET-guided drug discovery and development while also generating strong collaborative links with European partners," Chibale said.
---
This work is licensed under a Creative Commons Attribution-NoDerivatives 4.0 International License.
Please view the republishing articles page for more information.
---