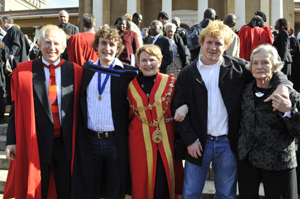 Family ties: Prof Johann Maree (left), hooded his son, Paul Zille Maree, who graduated with a BSocSc. Paul's mother is Helen Zille (middle), the Mayor of Cape Town. Also in the picture are Paul's brother, Thomas Zille Maree (also a UCT student), and their grandmother, Mila Zille.
It might have been an inauspicious date (Friday the 13th) but for the Zille Maree family Friday's graduation was a day of celebration. Married to Helen Zille, Cape Town City Mayor, Professor Johann Maree (sociology) hooded their son, Paul, who received a BSocSc.
Maree is also a UCT graduate, with a PhD awarded in 1986. Thomas, Paul's younger brother, started at UCT this year, also with a BSocSc in mind.
Commenting on his son's UCT career, Maree said: "I would say he greatly enjoyed his student years, but not all the enjoyment came from being a UCT student.
"While at UCT he started a private basketball team, the Disciples, consisting of him and his mates, that they entered into the Cape Town basketball league and played in it for a couple of years.
"He was invited by his longstanding friend, Amrik Cooper, to be the vocalist of a band Amrik was starting up, the Beams. Paul fitted perfectly into the position and the Beams regularly perform gigs at Cape Town's night spots. They performed on Friday night after Paul's graduation ceremony."
Maree said Paul planned a career as a famous rockstar.
"But, failing that, he wants to become a mathematics teacher. He is busy doing the Postgraduate Certificate in Education at UCT in order to become a qualified maths teacher at the end of the year."
Paul's grandmother, Mila Zille, flew from Johannesburg to attend the graduation and celebrations afterwards.
---
This work is licensed under a Creative Commons Attribution-NoDerivatives 4.0 International License.
Please view the republishing articles page for more information.
---