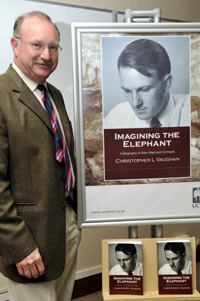 There are two remarkable things about Allan MacLeod Cormack, the subject of Professor Kit Vaughan's newly launched biography, Imagining the Elephant.
The first is that Cormack, a 'lowly' physicist (albeit UCT trained), was co-winner of the 1979 Nobel Prize in Physiology or Medicine for his computer-assisted tomography (CAT) scanner.
Second, Cormack's work, conducted at the southern tip of Africa, revolutionised the future of imaging - and inspired a new generation of medical scientists such as Vaughan.
When Cormack died in 1998, Vaughan, then a biomedical engineer in the human biology department, approached Cormack's family about plans to create a UCT research group to honour his scientific contributions. They agreed and the MRC/UCT Medical Imaging Research Unit was launched in May 2000, with Vaughan as director.
But the book is not about science. It's about a family man, his discoveries, and the way those changed our world. Its writing launched an odyssey for Vaughan himself, taking him to Boston, Scotland and England to flesh out his research.
And Cormack's science did change the world. Guest speaker at the launch, neurosurgeon Professor Graham Fieggen, said computer assisted tomography had revolutionised his discipline, allowing clinicians to identify objects normally hidden in a traditional 2D X-ray.
A highlight of the launch was the brief address by Cormack's elder sister, Amy (Amelia) Read. Vaughan had been able to present her with a hot-off-the-press copy of the book on her 90th birthday.
Proceeds will go to the Allan Cormack Book Fund, to help needy students buy physics and maths books.
---
This work is licensed under a Creative Commons Attribution-NoDerivatives 4.0 International License.
Please view the republishing articles page for more information.
---