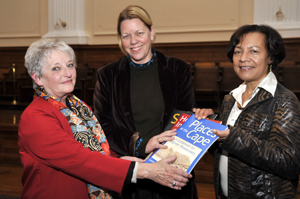 Handing over: Maureen Rall, (left), and Illona Meyer, (right), hand the work of the TEPC project to Catharina Verkerk of the Dutch Embassy.
The three-year, R3-million Transcription of Estate Papers and Associated Documents at the Cape of Good Hope (TEPC) project may have closed shop, but it leaves behind a rich archive.
As part of the project, transcribers have produced a database, available on the internet or CD, and guidebooks to researching hand-written manuscripts from the 17th to mid-19th centuries. These include descriptions of private belongings - from houses to crockery to, yes, slaves - as well as records of prisoners and exiles banished to the Cape by the Dutch East India Company (VOC), and VOC muster rolls.
"This has been a project about everybody, from Jan van Riebeeck to a blacksmith's assistant's assistant's assistant," says Dr Antonia Malan of UCT's Department of Archaeology.
The digitised records and guidebooks were formally handed over to the Head of the Western Cape Archives and the Royal Netherlands Embassy on 13 May.
While the project has closed, UCT's Professor Nigel Worden believes that it has opened new doors. Members of the transcription team have established the Tracing History Trust to promote further recording and digitisation of historical resources.
The multi-award-winning project was a joint effort between UCT, the University of the Western Cape, and the National Archives in The Hague, Netherlands, funded by the Dutch government and supported by the Western Cape Archives and Records Service (see www.capetranscripts.co.za).
---
This work is licensed under a Creative Commons Attribution-NoDerivatives 4.0 International License.
Please view the republishing articles page for more information.
---