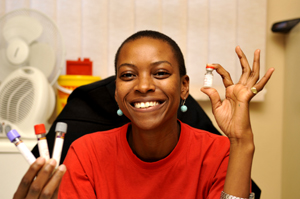 The difference: Dr Molebogeng Rangaka has won a training fellowship from the Wellcome Trust.
When Dr Molebogeng Rangaka finished her medical degree at UCT, she could have followed any medical speciality, but she chose the highly challenging field of public health and infectious disease immunoepidemiology.
However, she is confident that she's made the right decision. "Given the scale of the HIV and TB problem in our society, and the fact that very few medical graduates follow this route, it makes sense that I chose this field," she says.
Rangaka's work received a boost when the Wellcome Trust, the UK's largest medical research charity, awarded her a research training fellowship recently. As a member of UCT's Institute of Infectious Disease and Molecular Medicine, she will do a three-year doctoral course at the London School of Hygiene and Tropical Medicine, where she obtained her master's degree in epidemiology.
In her work, she hopes to evaluate whether new blood-based methods of identifying TB infection can predict who will develop active TB.
"All of us have the TB germ," she says. "The only available test for tuberculosis infection (Mantoux), as recommended by the government, makes diagnosis very difficult, especially in HIV-infected people.
"It doesn't accurately tell us who is likely to develop active TB and who is likely to benefit from TB preventive therapy. Hopefully, this research may give us something better than we have had thus far."
---
This work is licensed under a Creative Commons Attribution-NoDerivatives 4.0 International License.
Please view the republishing articles page for more information.
---