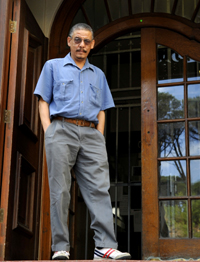 Neil Foster, warden at Clarendon House and Clarinus.
Neil Foster jokes that he's father to 628 children but only one belongs to him.
It's the kind of attention he gives his job as warden of two of UCT's bigger student residences, Clarendon House and Clarinus. Foster is one of many wardens and sub wardens who run UCT's many residences in partnership with their house committees and residence management teams.
It's a job with frustrations - but the rewards outweigh them.
"The most important thing is that I'm in a position to shape minds out of the classroom," Foster says.
It's a privilege he's enjoyed since 1994, despite the occasional "disrupted nights" that resulted from the more sometimes festive aspects of student life.
Having taken the reins at a watershed time for the nation, Foster says aspects such as integration and democratisation have played out in the residences he oversees. This is where he believes residence life can play an important role.
"This is not a hotel. And wardenship is about helping students become responsible citizens."
But it can be taxing. He recalls the loss of two students in two weeks after accidents claimed their lives - and the time Clarinus had to be evacuated because of a fire from a heater.
He would no doubt echo Dr Rosemary Exner's pronouncement: "This is a calling and not a job."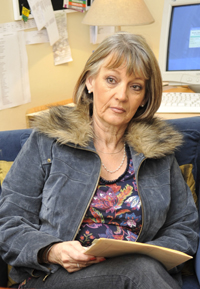 Dr Rosemary Exner, former warden at Fuller Hall.
Exner is the former Fuller warden (2004-2008), now retired and working at Student Wellness Service as a consultant psychologist.
"It was an opportunity to share the living and learning lives of 240 wonderful young women, the privilege of mentoring and guiding, and in some instances, mothering those that needed it."
Being a warden can affect families. Foster's wife and daughter live off campus and he joins them over weekends. Exner's youngest son lived with her the year he graduated and then during his postgraduate course.
"My Portuguese Water Terrier was Fullers' mascot. My husband joined me (and 240 surrogate daughters) last year when he concluded his tenure at the University of Johannesburg."
The experience has added to her professional life.
"Having had my own children, lived in residence with other people's children, being in private practice and in the early part of my career, in the classroom, I feel that all these aspects have combined to provide me with sensitivity to student issues.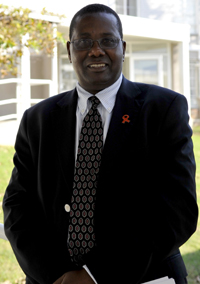 Prof Evance Kalula, warden of Kopano.
Warden of Kopano, the law faculty's Professor Evance Kalula, says he "resisted" wardenship for over 15 years. His family, including three children studying at UCT, live at Kopano.
Kopano has a long history, with a who's who of former students, including chair of Council Geoff Budlender and Dean of Law Professor Hugh Corder. Erstwhile VC Dr Stuart Saunders is a former warden.
"We like to think of ourselves as a more balanced residence. Lots of my boys are top achievers. But they also play hard. It's a showcase for integration and diversity."
Kalula's approach to wardenship clearly favours his academic background.
"This is not a bed and breakfast. It's a teaching and learning centre with a strong mentorship and tutoring system.
"It's a part of the mission where you link academic achievement and leadership."
He has high praise for former wardens Dr Ian Bunting and Deputy Vice-Chancellor Professor Martin West, the 'fathers of the modern residence system', run on co-operative governance.
But some aspects of wardenship call for plain discipline. Three Kopano students spent a weekend in the local cells after being arrested for streaking to neighbouring Graça Machel Hall. One phoned Kalula, asking him to bail them out. Their warden refused.
Afterwards the young man's mother phoned to thank Kalula for his unwavering stance.
"This is very fulfilling work," he says. "You visibly see change in the students as they learn to live with each other and it all reinforces one's vocation as a teacher."
From the student perspective, Scott Havemann, a member of the Kopano house committee said communication was the most important aspect of good wardenship.
"Good communication between the warden and the house committees and residence management team is essential."
Havemann, a second-year business science law student, says he appreciates having a warden who is a respected member of the academic community.
"He knows how the academic structure works and that helps when you're struggling with knowing who to talk to when you have a problem."
(Eight warden and four assistant warden positions are being advertised on the UCT website, with a closing date of 12 June.).
HR is in the process of filling a number of warden posts over the coming months.
Part-time warden - Baxter Hall Residence
Part-time assistant warden - Liesbeeck Gardens
Part-time warden - Graça Machel Hall
Part-time assistant warden - Graça Machel Hall
Part-time warden - College/Kilindini
Part-time warden - Forest Hill
Part-time warden - Leo Marquard Hall
Part-time assistant warden - Leo Marquard Hall
Part-time warden - Glendower Residence (Glen Res)
Part-time warden - Fuller Hall
Part-time warden - 3rd Tier Residence
Part -time assistant warden - Kopano
The closing date for applications is 12 June, and the contact number for information is 021 650 5429.
---
This work is licensed under a Creative Commons Attribution-NoDerivatives 4.0 International License.
Please view the republishing articles page for more information.
---