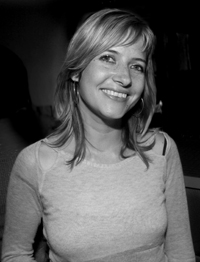 Lauren Beukes is the most recent graduate from the master's programme in UCT's Centre of Creative Writing to see her thesis into print.
Beukes recently celebrated the launch of Moxyland, a novel set in Cape Town of 2017, a city that that bristles with state-of-the-art technology but weighed down under corporate control. The plot tackles everything from AIDS orphanages set up by corporations and orphans locked into ironclad contracts with said corporations, a government fronted by a merciless police force backed by biotech-enhanced attack dogs, ubiquitous branding, epidemics, video games and that most iconic piece of technology, the cellphone.
"It's a novel of ideas, inspired by where South Africa is right now and where it's going," says Beukes.
Despite its futuristic setting, it's not a sci-fi novel, Beukes insists, borrowing more in tone and style from the works of Margaret Atwood and others.
Moxyland's been dubbed a "frighteningly persuasive high-tech fable for South Africa", and critics have lapped it up.
"Reminiscent at times of Neal Stephenson's cyberpunk classic Snow Crash, its paragraphs dripping alternately with newly-coined street slang and futuristic techno-lingo, Moxyland is funny, gritty, imaginative and, ultimately, deeply disturbing," said one reviewer.
"Lauren Beukes is a startling new voice on the South African literary scene, and her novel, Moxyland, is courageous, cool, and refreshingly unsentimental," wrote another.
Beukes, head writer at Clockwork Zoo Animation during office hours, is already at work on a second novel, set in Hillbrow this time. It's full of "crazy ideas", she says, and tells the story - in part - of a girl who receives messages from the dead.
Beukes is also the author of Maverick: Extraordinary Women From South Africa's Past.
---
This work is licensed under a Creative Commons Attribution-NoDerivatives 4.0 International License.
Please view the republishing articles page for more information.
---