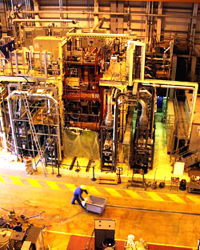 UCT has become the first tertiary institution in South Africa to offer undergraduate courses in nuclear power as part of its mechanical and electrical engineering programmes.
The two elective courses concentrating on nuclear power engineering were introduced in February this year at the request of Eskom.
"UCT was approached in this regard because of its recognised excellence and also because of the close proximity of the campus to the Koeberg power station, and that many graduates from the faculty have already joined Koeberg," explains Professor Bob Tait, head of the Department of Mechanical Engineering.
Head of the Department of Electrical Engineering, Professor Trevor Gaunt, elaborates that the two elective courses are an introduction to the fundamental concepts behind nuclear power engineering. It will give students sufficient foundation knowledge to be employed in any nuclear-related sector in the world, Gaunt notes.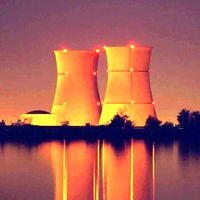 The courses address the aspects of nuclear physics, materials in nuclear engineering, non-destructive testing, thermodynamics, reactor types, radiation, dosimetry, nuclear fuel and waste management, instrumentation and power equipment, which are key elements in the operation and maintenance of any nuclear power facility. In addition, consideration is given to regulatory, safety and environmental issues. At present nuclear expertise is being bought in, as appropriate, both locally and from overseas, while appointments are being processed. The support of EBE faculty colleagues and some physics department staff is also gratefully acknowledged.
"Essentially, the two elective courses will teach students about the effective management and operation of a nuclear plant facility from an engineering perspective," states Gaunt.
The courses do not address the aspect of reactor design, however. Both Gaunt and Tait believe that this is an exceptional niche area and South Africa is not in a position to compete with highly specialised companies such as Areva and Westinghouse.
According to Tait, the content of the courses will not be limited to a single specific nuclear technology. The technology for the next nuclear power stations to be built in South Africa is almost certainly of the pressurised water reactor (PWR) type, although the South African nuclear fraternity is also developing the helium gas-cooled pebble bed modular reactor (PBMR).
The introduction of the courses has been well received by the UCT student body, with 31 fourth-year students registering for the two electives.
In fact, based on this support, it is anticipated that more courses focusing on nuclear engineering will be added to the syllabus in the future.
Article courtesy of Engineering News.
---
This work is licensed under a Creative Commons Attribution-NoDerivatives 4.0 International License.
Please view the republishing articles page for more information.
---