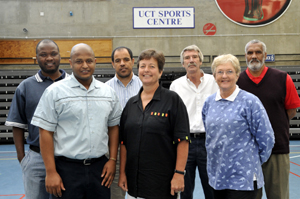 In support of sport: Sport administrators (from left, back), Frans Mamabolo, Roger Adams, John Donald and Peter Buckton, (from left, front) Gavin Sheldon, Lydia Hall and Noreen Wonnacott.
Who are UCT sports administrators?
In alphabetical order, Roger Adams, Peter Buckton, Lydia Hall, Frans Mamabolo and Gavin Sheldon. Noreen Wonnacott oversees the activities of the hockey club on a part-time basis, while Kobus Olivier joins the cricket team on a seasonal level. John Donald is head of sport and recreation.
What do sports administrators do?
The sport and recreation unit has seven sports administrators, who "work when everyone else is playing", as Donald puts it, in the development and support of student leaders from the 40 sports clubs at UCT. "This entails creating an environment conducive to extra curricular learning and day-to-day mentoring with an important emphasis on co-operative governance."
Operationally, sports administrators are responsible for the good governance of the clubs, including the management of finances, building relationships with internal and external agencies such as provincial and national structures, and serving on national student sports committees or provincial and national federations. They also assist the clubs to recruit qualified coaches and oversee safety issues, including the proper maintenance of facilities and equipment. In addition, the team ensures proper medical provision for high-risk sports. All this requires solid organisational and management skills, and sound working relationships with external bodies.
What are the highs and lows of the job?
There are few lows in the life of sports administrators as they usually deal with bright, enthusiastic students willing to work together to achieve common goals, says Donald. "However, we often have to deal with errant individuals with personal agendas within external structures. The challenge is to uphold good ethics and align oneself carefully."
How do you see the profession in general?
"As for the poor reputation of sport administrators at a national level, and in professional sport in particular," says Donald, "we believe that many of them are in sport for all the wrong reasons, including personal gain and power, and that if they applied basic democratic principles, the sports terrain would be a more harmonious one."
What is the strangest thing to have happened in the line of duty?
"We were on a tour to Port Elizabeth when our aquatics team decided to go skinny-dipping at King's Beach and had all their belongings and clothes stolen while they were in the water. The team had to run two kilometres back to their hotel, completely starkers. You can just imagine the reception they received!"
---
This work is licensed under a Creative Commons Attribution-NoDerivatives 4.0 International License.
Please view the republishing articles page for more information.
---