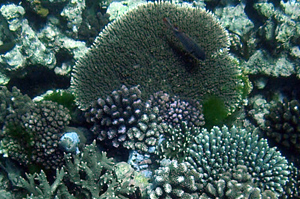 It'll blow your coral reef: A study by Tessa Hempson shows that dynamite fishing in Tanzania is laying waste to that country's coral reefs.
Dynamite fishing is having a severe impact on the coral reefs along the Tanzanian coast. Combined with the effects of overfishing, this is placing the entire marine ecosystem, which supports a population of threatened coelacanths, under extreme pressure.
Conservation biology master's student Tessa Hempson from UCT's Percy FitzPatrick Institute of African Ornithology joined a team of researchers from the African Coelacanth Ecosystem Programme to study the extent of the damage to the reefs in the Tanga region along the northern Tanzanian coast.
Based on the long hours Hempson spent underwater carrying out fish counts and reef surveys, she describes the level of destruction as "dire".
"Dynamite fishing not only indiscriminately kills all fish and invertebrates within range of the blast, but also destroys the reef structure itself, often reducing it to rubble," she says.
As the reef, which feeds the fishing population, can take up to fifty years to recover, or not recover at all, this destructive and dangerous practice affects not only the ecosystem, but also the subsistence fishing community in the area.
"It is neither legal nor condoned by the fishing community," explains Hempson. "Patrols scout the area, but funds for boat costs are limited and there are reports of intimidation and bribery."
Hempson's research provides some of the first empirical evidence of the impact of dynamite fishing on coral reefs, and the data she collected has already helped to support lobbies calling for government action against the practice in Tanzania.
---
This work is licensed under a Creative Commons Attribution-NoDerivatives 4.0 International License.
Please view the republishing articles page for more information.
---