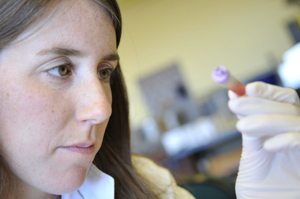 It's all relative: Martha Nelson-Flower is investigating how Pied Babblers are able to tell the difference between relatives and strangers.
In co-operative breeding groups, such as those of pied babbler birds in the Kalahari, the ability to recognise relatives to prevent incestuous breeding is extremely important.
Zoology PhD student Martha Nelson-Flower set out to discover how the birds identify relatives and strangers, and how their inter-relatedness and family dynamics and structure affected the behaviour of the birds within a group.
"Pied babblers live in co-operative groups of up to 16 members, with only the dominant male and female breeding," explains Nelson-Flower. "I am examining their relatedness, and the way it affects their decisions, such as mate choice, helping, and control of the breeding system.
"Do they care about who they are feeding? For example, would a step-mother feed her stepkids?"
Nelson-Flower collected blood samples from about 300 birds, and is currently halfway through the process of genotyping them to establish their relation to each other. She plans to submit her findings by June 2009.
---
This work is licensed under a Creative Commons Attribution-NoDerivatives 4.0 International License.
Please view the republishing articles page for more information.
---