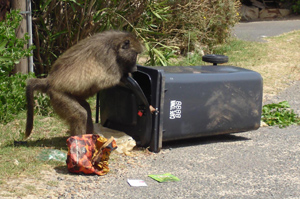 Going ape: A UCT academic is working on a way to evaluate and rank various approaches to baboon management in the Cape Peninsula, where residents and conservationists occasionally have different objectives in dealing with the sometimes troublesome baboon population.
Baboons in the Cape Peninsula, although protected, can also be pests, and in some cases even dangerous. As they become accustomed to people they become increasingly bold, and instances of baboons raiding and ransacking people's homes for food are a problem in a number of areas. There have been several cases where baboons have literally mugged people for food.
And as well as the practical issues in dealing with the problem, there is also its controversial aspect, with some residents wanting to protect themselves and conservationists stressing the importance of protecting the baboon population, which is regarded as an important part of the fynbos ecosystem.
Presently the Cape Peninsula baboon population consists of 11 troops, which populate the area from the Tokai Forest down to the Cape of Good Hope Section of the Table Mountain National Park. The troops vary in size. Some are as small as seven, but larger troops can number up to 100.
Conservation biology master's student Gareth Mann (above), based in the Percy Fitzpatrick Institute of African Ornithology, tackles these complexities with SMART, or the Simple Multi-Attribute Rating Technique, to evaluate and rank various approaches to baboon management in the Cape Peninsula.
"SMART is often used in business decision-making," explains Mann. It is a framework that allows for the comparison of available options, which are then ranked according to their viability.
The way it works is that everybody first suggests goals for management, and then each management option is ranked, first by individuals, then by the group as a whole.
Included in the group were residents, conservationists and scientists from UCT's Baboon Research Unit, who also contributed to Mann's research.
Among the strategies evaluated for baboon management were translocation of the baboons, improving local security, improving the existing monitoring system and even the controversial practice of culling.
"The outcome was that education is the most viable strategy," says Mann.
Baboon-proof rubbish bins have already been introduced, and monitors, employed by the Baboon Management Team (BMT) and SANParks prevent baboons from entering residential areas, and move baboons out of human-frequented areas before conflict occurs. But residents also need to be educated as to how to make their living areas less attractive to baboons.
Some residents in Scarborough, for example, have been known to leave out food for porcupines, which attracts baboons to the area. Residents also plant fruit trees and erect unprotected compost dumps.
"Residents need to be told why they can't do this," explains Mann.
The BMT is working on a booklet aimed at educating residents about reducing the baboon problem in their area. Mann has submitted his findings to the BMT, and hopes that his study will contribute to future baboon management planning.
Education doesn't only apply to residents, however. Once residual areas are no longer attractive to baboons, they should revert to natural foraging. But as baboons will not 'unlearn' behaviour that allows them to access high-quality food, this is a process that could take decades to be realised. Education is a long-term strategy to be used in conjunction with the existing baboon monitoring programme.
---
This work is licensed under a Creative Commons Attribution-NoDerivatives 4.0 International License.
Please view the republishing articles page for more information.
---