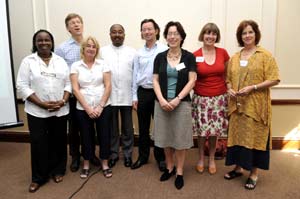 Going global: Local and international delegates attended a Internationalisation at Home meeting. From left to right: Dr Loveness Kaunda, Knut Bergknut, Caz Thomas, Prof Thandabantu Nlhapo, Prof Jos Beelen, Inez Meurs (Utrecht Business School Faculty of Economics &Management, Netherlands), Sheila Trahar (School of Education, University of Bristol, UK) and Assoc Prof Nan Yeld
UCT's drive to promote internationalisation took another positive step when international and local delegates gathered for a colloquium titled Internationalisation at Home at UCT.
Organised by the Centre for Higher Education Development (CHED) and the International Academic Programmes Office (IAPO), the meeting on 3 and 4 April increased awareness of internationalisation on campus.
About 20% of UCT students are international students, hailing from 100 countries. It is inevitable that they have an impact on the dynamics of the academic and social experience on campus, said IAPO's Caz Thomas. But due to many factors, UCT is unable to send as many exchange students abroad as it receives. The question then is what can be done "at home" to give students relevant international perspectives and intercultural competence.
That is where Internationalisation at Home, a process of integrating an international dimension into the research, teaching and services function in higher education, comes in.
According to Deputy Vice-Chancellor Professor Thandabantu Nhlapo, UCT has a "decent footprint" around the world, but still has difficulty in creating a steady outward flow of students, prompting the need for Internationalisation at Home.
"We should use the fact that we have a diverse international population on our campus to the fullest extent," he said.
---
This work is licensed under a Creative Commons Attribution-NoDerivatives 4.0 International License.
Please view the republishing articles page for more information.
---