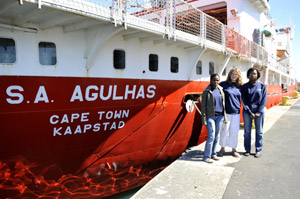 LEAP ahead: UCT's Dr Isabelle Ansorge (middle) has invited Lindelwa Mini (left) and Nomaphelo Mvinjelwa, both of the LEAP School for Science and Mathematics in Pinelands, to join a UCT oceanography research team heading for the Prince Edward Islands in the Southern Ocean.
Two young women, Nomaphelo Mvinjelwa, a Grade-11 learner, and intern Lindelwa Mini, both from the LEAP School for Science and Mathematics in Pinelands, have been invited by Dr Isabelle Ansorge of the (oceanography) to join her research team heading for the Prince Edward Islands in the Southern Ocean.
As part of the International Polar Year, Ansorge and her team of four oceanography honours students, a postdoctoral student, an education officer from the South African Environmental Observation Network (SAEON), as well the LEAP School duo, will spend five weeks on board the South African research and supply vessel the SA Agulhas.
Ansorge and her team will be studying the ocean circulation between the Prince Edward Islands (Marion Island and Prince Edward Island) and 58°S.
The Antarctic Circumpolar Current (ACC) freely carries water around the whole continent of Antarctica, but not without obstructions.
Some, such as the Drake Passage, constrict its path, while others, such as mid-ocean ridges, may induce meandering in the current cores and the genesis of mesoscale turbulence.
"Studying recent surface drifters, subsurface floats, altimetry and the simulated velocities from a numerical model, we have identified a region south of the Prince Edward islands that shows that the ACC splits in half over the Conrad Rise, forming two intense jets at the two meridional extremities of the Rise with a relatively stagnant water body over the Rise itself," Ansorge explained.
"This year's cruise aims to study the area and see from our collected data exactly what is going on and to determine the important implications for the ecology of the region."
One of their purposes is to attract young scholars to ocean sciences at UCT. The cruise is a training module for all UCT oceanography honours students and Mvinjelwa and Mini will slot right into this group, learning about oceanography in the Southern Ocean, working with the oceanographic equipment on board, as well as collecting water samples and analysing oxygen, temperature and nutrients.
Ansorge runs a "class afloat"-style module, which includes a lecture series on board. Projects will be handed out, and the LEAP duo will be expected to join the students on 12-hour watch during the survey. They will also join the www.myspace.com/classafloat daily blog, which will allow their school friends back home to follow their travels.
"With stormy conditions, icebergs, huge seas and a visit to the new Subantarctic base on Marion Island, this will be an experience the LEAP scholars will never forget," Ansorge said.
---
This work is licensed under a Creative Commons Attribution-NoDerivatives 4.0 International License.
Please view the republishing articles page for more information.
---