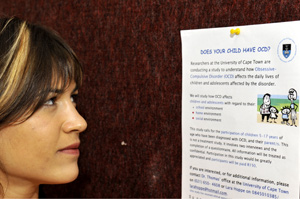 Looking out: Lara Hoppe's reseach will shed light on the growing incidence of obsessive compulsive disorder among children.
Obsessive-compulsive disorder (OCD) is a common psychiatric problem. It afflicted Dr Samuel Johnson, David Beckham is rumoured to have OCD and there have been hints that Florence Nightingale was an obsessive compulsive. It's considered one of the most disabling of all medical disorders, says psychology master's student Lara Hoppe, whose new study on OCD among children shows that it's growing within this group in South Africa.
In a nutshell, people with OCD experience obsessions such as repetitive thoughts or images that are intrusive and inappropriate, leading to increased levels of anxiety and/or compulsions to counter the obsessions and reduce anxiety.
Howard Hughes, for example, was obsessive about germs, producing compulsive behaviour. The symptoms of OCD are distressing, time-consuming and associated with functional impairment and reduced quality of life.
Around 2-3% of people will develop OCD during their lifetime. It is equally common in men and women, and occurs at similar rates throughout the world, normally beginning in adolescence or young adulthood. It can sometimes be diagnosed during childhood, especially in boys. In children and teenagers OCD affects concentration in class, impairing schoolwork.
Advances in neuro-imaging techniques have provided more sophisticated explanations of the genetics and functional neuroanatomy underpinning OCD. Numerous studies have implicated the specific genetics factors and orbitofrontal-limbic-basal ganglia circuits in OCD.
In South Africa, Stellenbosch University's Dr Christine Lochner and UCT's Professor Dan Stein are CUBBI (Cross-University Brain Behaviour Initiative) researchers exploring these aspects in OCD.
Their cutting-edge OCD genetics and brain-imaging study, which will yield novel insights into the brain functioning of those with OCD, has started screening its first participants. The study is another venture of CUBBI and the MRC Unit on Anxiety and Stress Disorders (Stellenbosch University). It uses novel techniques and facilities such as the new 3T MRI scanner at the Cape Universities Brain Imaging Centre (CUBIC) to extend previous research on OCD.
This study suggests that the onset of OCD is linked to certain activation patterns within specific brain structures, in addition to certain genetic components.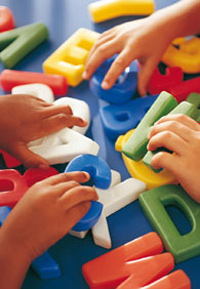 Hoppe's research provides a different angle, looking at the phenomenology of OCD and how the symptoms affect children and adolescents on a daily basis.
Hoppe says there is a paucity of literature in this area. Nevertheless, evidence suggests that impairment caused by OCD is significant in a number of domains, and that OCD-related functional impairment in childhood or adolescence may differ across cultures.
It is hoped that her study will inform the future diagnosis and treatment of South African children and adolescents with OCD.
Thus far her findings indicate that parents believe their children's OCD-related problems affect them mainly at school. But the children say their OCD "outfall" extends into both the school and social domains.
The study also shows that parents and children differ when it comes to rating the most significant individual functional problems.
The findings differ from those of North American and European studies, providing the rationale for further research into the effect of culture on childhood OCD-related functional impairment.
This work will have important implications for the diagnosis and treatment of children with OCD in South Africa.
(If you would like to participate in the study or to find out more about it, please contact these researchers in the Department of Psychology: Dr Kevin Thomas on tel 021 650 4608, or Lara Hoppe on 084 501 0385, or email larahoppe@gmail.com.).
---
This work is licensed under a Creative Commons Attribution-NoDerivatives 4.0 International License.
Please view the republishing articles page for more information.
---