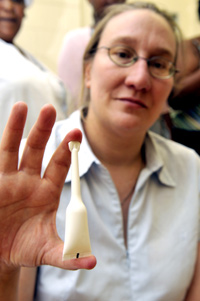 Dr Smruti Patel and Alana de Kock of UCT's Infectious Disease Epidemiology Unit, situated in the School of Public Health and Family Medicine, were part of a team of international researchers in a groundbreaking clinical trial to test the safety and efficacy of a microbicide gel, developed to prevent the spread of HIV.
The university's Empilisweni Centre for Wellness Studies in Gugulethu was used as one of three sites in the country conducting a randomised, double-blind trial on the US-based Population Council's candidate microbicide, Carraguard. Made from the seaweed derivative, carrageenan, Carraguard was developed as a vaginal gel to be applied by women before sex to prevent HIV infection from their partner.
The other two sites were the Setshaba Research Centre, through the University of Limpopo/Medunsa campus and the Isipingo Clinic, through the Medical Research Council of South Africa. These sites are located in areas where the HIV epidemic is acute.
Over 6 000 volunteers took part in the trial. The women were divided into two groups: one group was given Carraguard, the other a placebo. They also received condoms, HIV education, gynaecological exams, risk-reduction and safer-sex counselling, and testing and treatment for curable sexually transmitted infections.
Although the gel was found to be safe, the trial showed it to be ineffective in preventing HIV infection. A total of 285 women became infected with HIV during the trial: 134 in the Carraguard group and 151 in the placebo group. Researchers concluded that the difference was statistically insignificant.
But De Kock doesn't see this as a failure.
"This is just the first step, and we now have a safe platform to work from. Carraguard proved to be safe and extremely stable, and it lends itself well to combinations with other products."
De Kock, who describes HIV as "the cleverest virus we've ever come across", already has her sights on the next challenge. She explains that the Population Council is looking into combining Carraguard with an antiretroviral drug, and hopes the centre will be part of the second trial.
"The trial had a positive effect on the community," she says. "Thousands of women came to know their HIV status and many used the information they received to become educators themselves."
De Kock also notes that during the course of the trial, condom use among the participants doubled, from 33% to 66%.
The trial was funded by the US Agency for International Development (USAID) and the Bill & Melinda Gates Foundation.
---
This work is licensed under a Creative Commons Attribution-NoDerivatives 4.0 International License.
Please view the republishing articles page for more information.
---