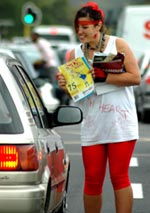 On Thursday, Capetonians woke up to a Valentine's Day gift with a difference. Hundreds of UCT students lined up at traffic intersections, shopping malls and other public places to sell RAG's (Remember and Give) annual Sax Appeal magazine.
From frilly underwear to colourful costumes, many of the 1 500 students were dressed in outfits ranging from the weird to the wonderful, depending on your taste. This in keeping with the theme "Sax Sells" adopted by the first-years.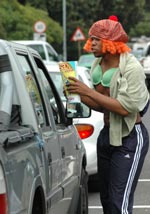 And the topics inside the magazine - now 75 years old - were not to be outdone by the sellers, with some racy headlines we can't repeat here. 'Serious' issues like When Zuma Becomes President and Drugs of the World were also covered. All tongue-in-cheek, of course.
Sax Appeal editor Murray Hunter said the rainy weather did not seem to hamper plans to sell 38 000 copies of the 100-page publication at 70 depots around Cape Town. Last year, 34 000 copies were sold. The aim is to raise R700 000 through Sax Appeal for the Students' Health and Welfare Centres Organisation (SHAWCO).
Those who didn't get hold of a copy on Valentine's Day can still pick up one at Pick 'n Pay, Butler's, and UCT Campus Store.
---
This work is licensed under a Creative Commons Attribution-NoDerivatives 4.0 International License.
Please view the republishing articles page for more information.
---