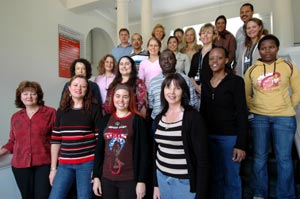 One more step: Among the UCT DNA/MVA Vaccine Development Team are (from left, front) Prof Anna-Lise Williamson, Assoc Prof Carolyn Williamson, Dr Wendy Burgers, and Dr Katrina Downing. (Second row) Assoc Prof Enid Shephard, Jolanda Truter, Dr Gerald Chege, Evelyn Mojapelo, and Thabisa Penze. (Third row) Dr Fiona Tanzer, Lindi Roberts, Tracy Blanckensee, and Tracey Muller. (Fourth row) Zaahier Isaacs and Desiree Bowers. (Back row) Dr Etienne Hurter, Maureen Lambrick, Leigh Johnson, Dr Anke Binder, Shireen Galant, and Craig Adams
The UCT HIV Vaccine Development Group could move to human clinical trials this year if the South African Medical Controls Council grants approval in the coming months.
Two vaccines, SAAVI DNA-Cs and SAAVI-MVA-C, have been put forward for safety or "tolerability" trials in South Africa and the United States. These will target HIV 1 subtype C, the strain that accounts for most HIV infections in South Africa. The US trials have been approved and the group plans to start these in the next few months.
Already tested on mice, rabbits and non-human primates, the vaccines have been designed to be used in tandem.
"Scientists have shown that for some vaccines there is a better immune response if the immune system is 'primed' with one type of vaccine and then 'boosted' with another," Professor Anna-Lise Williamson said.
Williamson heads the group of 30 researchers who have been developing the vaccines since 2000, a project funded by the South African AIDS Vaccine Initiative. Phase one of the proposed clinical trials would involve 36 people at two sites in Cape Town and Gauteng. The US trial includes 12 people.
Speaking from Geneva, Williamson told a journalist: "This is a phase one trial, which is mainly about safety. To determine if a vaccine is effective in preventing HIV infection or AIDS, phase 3 trials are needed. It's going to take a significant amount of time to reach this part of the journey, as well as considerable resources.
---
This work is licensed under a Creative Commons Attribution-NoDerivatives 4.0 International License.
Please view the republishing articles page for more information.
---