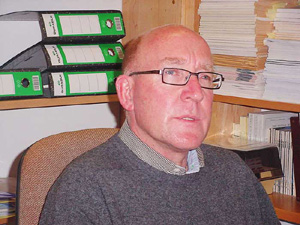 The members of the Senate Animal Ethics Committee at the University of Cape Town would like to express their deep sadness, pain and anger over the untimely death of Professor Michael Larkin. Professor Larkin was the committee's law representative, and performed much valued work on its behalf. He impressed all who knew him with his gentle demeanour, his kindness, and his caring attitude. His tragic death is a great blow to us all.
- Signed by Elisa Galgut, Mike Picker, Nasiema Allie, David Benatar, Tali Hoffman, Alan Macleod, Mwelase Mazamisa, Charmaine McBride, John Oakley, Marilet Sienaert, Kit Vaughan, Anne-Lise Williamson and Colleen Windvogel
We write on behalf of the law students of UCT, and in particular those who were taught by the late Professor Mike Larkin. It was with great sadness, shock and anger that we woke on Saturday morning to hear news of the violent mugging and murder of our much-loved law lecturer. He was a gentleman of the highest calibre, well respected for his fine legal mind and absolute integrity, perhaps his most enduring legacy being his modesty, humility and ability to listen.
It is on this note that we, Professor Larkin's students, appeal to the community to take a stand against violent crime in our society. For a renowned professor, returning home from an animal anti-cruelty gathering, to be heinously robbed of his own life should offend us all. Furthermore, the fact that this incident occurred merely a few hundred meters away from the local police station speaks volumes in itself. What hope have ordinary citizens if stalwarts of our community, upholders of not only the letter but also the spirit of the law, suffer the indignity of murder at their very doorstep?
This is the country we live in. It is a place where one is brutally murdered for the bag that they are carrying. It is a place where a man is left on the side of the road to die. It is a place where heartless, violent acts such as those which Professor Larkin endured on Friday evening are becoming increasingly common-place, and to which we, the public, are accepting with a sigh (and nothing more) as "the reality of life". We have chosen this reality, through our votes and our general apathy towards political and judicial issues. Violent crime is discussed too often in offices, at shopping malls, dinner parties, taxi and bus commutes and social gatherings, and yet it continues to happen, and in an increasingly brutal manner.
Prof Larkin's death is in an indicator, a symptom of an ill society, and in recognising that fact, we as a community should be prepared and willing to assist in its treatment. We can no longer continue with the attitude that our individual voice is just one of millions. Every individual in this country lives in a free democracy with constitutionally entrenched human rights, most notably those to freedom, dignity and security of person. We need to take responsibility for our sick society and make certain that those in power, entrusted with the care and enforcement of our rights, are held to account for conduct inconsistent with their maintenance.
This is our plea as students of law. It should be the legacy that we leave, and our efforts should be a tribute to the memory of a truly distinguished man, and a fine lawyer, Professor Mike Larkin. His death has profoundly affected us all; the education we received from him was so much more than the contents of the syllabus. May you rest in peace, Prof. It was an absolute privilege to have been taught by you.
- UCT law students, the intermediate and final-year class of 2007
On behalf of the student body at the UCT Law Faculty, we would like to express our utter shock and sadness at the untimely and tragic death of Professor Mike Larkin. Professor Larkin, 'The Lark' or the 'Gentle Giant' as he was often affectionately called, was a brilliant but different sort of lecturer: he was undoubtedly an intelligent and accomplished man, but he remained at all times humble, helpful and encouraging, often going the extra mile for his students. The lessons we have learnt from Prof Larkin extend beyond the confines of academia and the lecture theatre. From him, we have learnt the invaluable lessons of humility, integrity, gentleness, respect and generosity. Those of us who had the privilege were truly honoured by having had Prof Larkin teach and mentor us. He will be greatly missed. However, his legacy will live on, through the many students he taught and whose lives he touched. RIP Prof Larkin.
- The Law Students' Council
Professor Mike Larkin graduated from the University of the Witwatersrand. After spending some time with the firm of attorneys Werksmans, he became a full-time academic in the School of Law at Wits. He became a full professor there in 1990 and served two terms as chair of the governing committee of the school, while also serving as deputy dean of the faculty of law. His area of specialisation was corporate law. He served on the legal practices sub-committee of the Standing Advisory Committee on Company Law and on the boards and directors task team of the King Committee on Corporate Governance. He examined for professional bodies and acted as a consultant with Edward Nathan and Friedland, corporate law advisers at the time, for a number of years. Larkin joined UCT as professor and head of the Department of Commercial Law in January 2006.
---
This work is licensed under a Creative Commons Attribution-NoDerivatives 4.0 International License.
Please view the republishing articles page for more information.
---