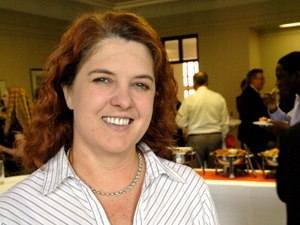 Building blocks: Susan Bourne is UCT's first full woman professor in the chemistry department.
It's not surprising that among the women Susan Bourne admires most are three foremost crystallographers: Professor Dorothy Hodgkin, who won the Nobel Prize for Chemistry in 1964 for determining the structure of vitamin B12, Dame Kathleen Lonsdale and Professor Judith Howard.
"Interestingly, my field of study, crystallography, is one in which women have always been well represented internationally," Bourne said.
It may be difficult to reconcile with a long-running campaign for equity, but Bourne is UCT's first full female professor of chemistry in 178 years. As such, she is part of a small but elite group in South Africa.
Her research area is supramolecular chemistry (put your teeth in for that one) , the study of intermolecular interactions, such as hydrogen bonding or pi stacking.
"For most of history, chemists have focused on making strong connections, building molecules that last, and have strength. Our interest is the opposite - we want to make short-lived materials; built for purpose.
"For example, we've had some success with making chromophoric sensors - molecules that respond to the presence of a specific trigger (another molecule or a change in temperature)."
Another of Bourne's projects is one to improve drug delivery systems by encapsulating the active ingredient in cyclodextrins, or cyclic sugar molecules.
"This improves the solubility and bioavailability of the drug and can help to mask unpleasant tastes.
"To make assemblies of molecules predictably we need to identify matching building blocks. This has the spin-off that, if you get it right, there's much less waste, which has green chemistry implications."
A dyed-in-the-wool chemistry graduate from UCT, Bourne's PhD (1991) was supervised by Professor Luigi Nassimbeni, now an honorary research associate.
After graduating she spent a year in the US before returning to a lectureship at UCT.
Professor of chemistry is not a title she initially aspired to.
"But the UCT process recognises achievement in teaching and research and I have always found the chemistry department to be a supportive environment."
In addition, Bourne has always been fascinated by how things work.
"The study of molecules gives one insight into how materials and living organisms operate."
There's a neat twist to her story.
"It's nice to note that the first professor of chemistry, P D Hahn, persuaded the Council to admit the first cohort of three women into UCT around 1895."
---
This work is licensed under a Creative Commons Attribution-NoDerivatives 4.0 International License.
Please view the republishing articles page for more information.
---