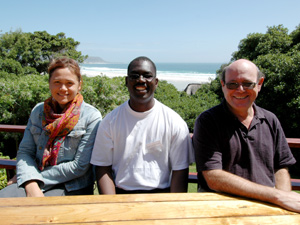 Keeping policy makers on their toes: Dr Martine Visser, Dr Edwin Muchapondwa and Prof Tony Leiman of the Environmental Policy Research Unit.
A new UCT research group will focus its attentions on sustainable development and the use of environmental economics in policy making.
The Environment Policy Research Unit, based in the Southern Africa Labour and Development Research Unit in the School of Economics, was set up as part Environment for Development, an international network funded by the Swedish International Development Co-operation Agency. The EfD is an international capacity-building programme in environmental economics, focusing on research, policy advice and teaching in Central America, China, Ethiopia, Kenya, South Africa and Tanzania.
EPRU hosted the first EfD annual meeting in Cape Town last week, a gathering that brought together about 45 delegates from the six EfD centres, Gothenburg University in Sweden and the United States-based Resources for the Future.
While the link between poverty and the environment has long been recognised, there remains a communication gap between education institutions and policy makers in the environmental policy arena, says Dr Edwin Muchapondwa, EPRU co-ordinator.
"At UCT we believe we can put in place permanent arrangements to fill this gap through EPRU," he says.
Muchapondwa and Dr Beatrice Conradie, Associate Professor Tony Leiman and Dr Martine Visser are driving the programme.
EPRU aims to help academics and policy practitioners interact in environmental policy research. It will also train future policy makers in the latest practices, and provide policy advice.
In addition, EPRU will promote in-service and postgraduate training programmes, and create a forum in which academics, policy makers and civil servants set research agendas for critical environmental policy issues.
"This is expected to contribute to increased environmental awareness among policy makers, better understanding of environmental realities, and more informed environmental policy-making," says Muchapondwa. "If the quality of knowledge upon which policy is based is excellent, and such knowledge is always readily available, then policy making might be enhanced in order to attain sustainable development and poverty reduction."
With so many poor communities relying on natural resources, efforts to sustain their use can contribute to poverty eradication, adds Muchapondwa.
"Ultimately, economic development depends on institutions that can protect and maintain the environment's carrying capacity and resilience."
---
This work is licensed under a Creative Commons Attribution-NoDerivatives 4.0 International License.
Please view the republishing articles page for more information.
---