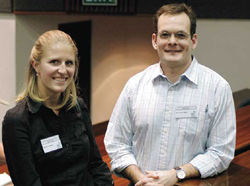 Representative study: Anna Grimsrud and Dr Landon Myer of the School of Public Health, who played a key role in the South African Stress and Health Study data analysis.
Mental disorders are prevalent in South Africa, with the levels of substance use disorders higher than in any other country in the World Mental Health Survey, with the exception of Ukraine.
This was reported by Professor Dan Stein, head of UCT's Department of Psychiatry and Mental Health and director of UCT's Brain Behaviour Initiative (BBI) signature theme.
He was speaking at the South African Stress and Health Study (SASH) conference on 10 October, World Mental Health Day. The conference included speakers from Harvard University, UCT, the University of Stellenbosch, the Provincial Government of the Western Cape (PGWC) and the Medical Research Council (MRC), and was co-funded by PGWC and the MRC.
Conducted between 2002 and 2004 as part of the World Health Organisation's World Mental Health Survey Initiative, SASH is the first nationally representative study of mental disorders in South Africa. It has provided a "unique data source" for the prevalence and severity of specific disorders, and can be compared usefully with international data.
"The findings show that mental disorders are prevalent in South Africa and that many go untreated," said Stein. "What we have now is epidemiological data that can be used to give input into service planning. It is great to see a conference of this nature co-sponsored by a research institution (MRC) and service planners (PGWC)."
Findings show that anxiety, mood and substance use disorders are countrywide and common among all race groups. Treatment rates for those with psychiatric disorders are low, particularly among those who abuse substances. The study also found that South Africans have high rates of exposure to psychological trauma.
SASH's principal investigator is Harvard University's Professor David Williams. His collaborators include Stein and Professor Soraya Seedat (University of Stellenbosch), directors of the Cross-University Brain Behaviour Initiative (CUBBI). Dr Landon Myer in UCT's School of Public Health has played a key role in data analysis, and a number of students are involved in SASH projects, with many more potential projects available.
SASH was funded by the National Institutes of Health and the national Department of Health.
---
This work is licensed under a Creative Commons Attribution-NoDerivatives 4.0 International License.
Please view the republishing articles page for more information.
---