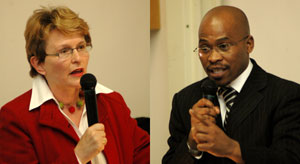 Clashing views: Cape Town mayor Helen Zille bandied arguments with Richard Dyantyi, the provincial MEC for local government, in a debate on affirmative action.
Cape Town mayor Helen Zille crossed intellectual swords with Richard Dyantyi, the MEC for local government and housing in the Western Cape, in a heated debate on affirmative action yesterday.
The debate, titled South Africa's Affirmative Action: Redress or Neo-Apartheid, was hosted by the Student Representative Council's school of political debate in a packed Beattie Theatre Lecture.
Zille, the national leader of the Democratic Alliance, argued that affirmative action was a return to apartheid and should be replaced by a corrective action "to put right what was wrong in the past".
She said the representivity notion of the African National Congress mirrored Hendrik Verwoerd's logic and has resulted in goal-displacement. Key to the ANC failure in the past 13 years, Zille said, was in education, a sector critical for equality.
Dyntyi hit back, saying if there was any review of affirmative action, it should be on how it should be accelerated.
He pointed out that 79% of South Africans were black, yet statistics show that 85% of the country's 200 000 unemployed graduates were black. Only 27.2% of senior managers were black and between 4 to 8% of listed companies in the Johannesburg Stock Exchange were black-owned, he added. To change that, Dyantyi said, equilibrium was needed, with gains and losses, which would be achieved at a price.
---
This work is licensed under a Creative Commons Attribution-NoDerivatives 4.0 International License.
Please view the republishing articles page for more information.
---