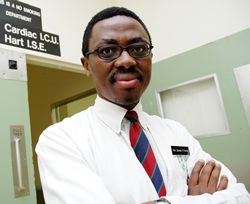 Imbalance: Prof Bongani Mayosi spoke on the future of medicine in his inaugural lecture this week.
A UCT cardiologist has called for the establishment of an All Africa Institute for Clinical Research to train 1 000 clinical scholars to "change the fortunes" of medicine in Africa in the next century.
Professor Bongani Mayosi, head of the Department of Medicine, said the region has 24% of the burden of disease in the world, but only 3% of its doctors and nurses.
In his inaugural lecture, titled The Future of Medicine, on 29 August, Mayosi said while there has been progress in investing in research facilities, there has been no serious effort to build the workforce and infrastructure for clinical research.
"It is a matter of public record that the intellectual production of our universities is falling, and this decline is related to a severe contraction in the output of clinical medicine from South African medical schools."
A University of KwaZulu-Natal and UCT graduate with a doctorate in genetics from Oxford, Mayosi said the Millennium Development Goals of the United Nations are unlikely to be achieved given the global shortage of doctors and nurses.
Outlining the origin of medicine, the current health status and venturing into the future of medicine in Africa, he said there was a need to produce, invent, build and work.
Mayosi said it was not surprising that the top five leading causes of death are diseases of poverty because of disparities between rich and poor.
For a full transcript of Professor Mayosi's inaugural lecture, click here
---
This work is licensed under a Creative Commons Attribution-NoDerivatives 4.0 International License.
Please view the republishing articles page for more information.
---